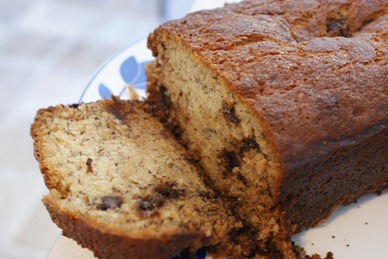 I have tried about a million recipes for the supposed 'best' banana bread.  It seems, however, that it often turns out dry and slightly tasteless.
I came across this recipe that contains Mayonnaise… which, was interesting. But I gave it a try anyway.
Well… It turned out to be the BEST and most moist Banana bread ever!! Not to mention that you can stir things in, like chocolate chips, walnuts, and pretty much whatever you'd like.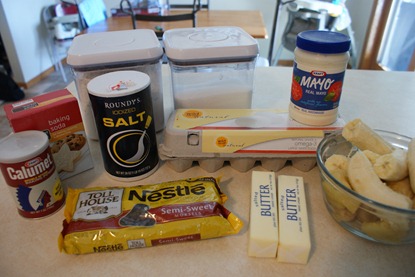 Ingredients:
1 C. butter- softened
2 C. white sugar
2 eggs
2 Tbsp. Mayonnaise
6 very ripe bananas, mashed
3 cups all-purpose flour
1/2 tsp. salt
1 tsp. baking powder
2 tsp. baking soda
1 C. semi-sweet chocolate chips
1/2 C. chopped walnutsRecipe:
Preheat oven to 350.  Lightly grease two 9×5 loaf pans
In large bowl, cream together the butter and sugar until light and fluffy.  Stir in the eggs, one at a time, beating well with each addition.  Stir in the mayonnaise and bananas.
In separate bowl, stir in flour, salt, baking powder, and baking soda.  Blend the flour muxture into the banana mixture; stir just enough to evenly combine.  Fold in the chocolate chips and walnuts.
Bake at 350 until a toothpick inserted into the center of the loaf comes out clean (very important!), apx 50-75 minutes.  – (I check it at 60 minutes, and usually put it back in for another 5-10 minutes.)
Cool in the loaf pan for 20 min. before removing to a wire rack to cool completely.  Cut around the edges before trying to remove from loaf pan.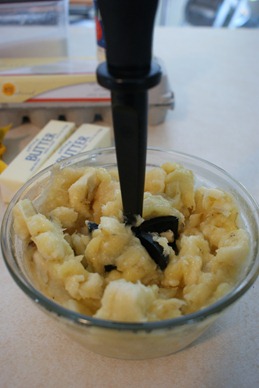 Another reason why I love my Mix'N'Chop from Pampered Chef.  Not only used for Hamburger, but also used on smashing up just about anything!
Mix all the ingredients together (as per the recipe)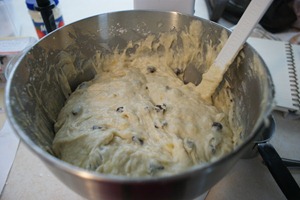 Fold in the Chocolate Chips and if desired some walnuts (my Husband *Hates* nuts in his banana bread…)
Make sure that you test the bread with a toothpick.  looks can be so deceiving and if it's not cooked in the middle, it will flop. *And I know from experience!*