Our deck looks like new!
Staining is actually fairly simple, just time consuming and requires some patience.
On Thursday morning I woke up to the sound of my husband outside washing out deck. Apparently there is a chance of rain every day for the rest of eternity, so Thursday (the only day without a chance here in Rochester) was the day the deck needed to be stained.
Last week we had re-strengthened the deck (holding the handrail felt like I was holding the deck up rather than it holding me up) by replacing the spindles on the stairs and adding lots of extra screws throughout the whole railing. Then it looked really weird; part stained, part worn and old, and part brand new. I wish I had a before picture for you.
We had stained it two years ago and did a poor job with foam brushes and HOT sun that made us give up. So, it has worn off on the areas that saw lots of foot traffic and looked pretty miserable.
So we fixed it with Cedar Natural Tone Deck Stain (from Home Depot):

How to stain a deck:
Peter scrubbed it well with deck wash (also from Home Depot) last week, then rinsed it well Thursday morning. While the floor boards dried, we painted the spindles and handrail with Dollar Store brushes (actually work really well!). That took a LOT of patience to paint all four sides, top and bottom, and the wood surrounding it. Especially since parts had never been stained since we slacked off last time.
Then Peter stained the floor boards with a pretty awesome (easily broken) paint pad with a moving center brush that went between the boards. Until it broke then he used a normal paint pad on the end of a broom stick.
Then we painted the stairs and avoided walking on the deck for a few hours while the hot sun dried it.
Be careful about drips though! It dried so fast a few drips dried on the floor boards, but that's nothing looking at how nice it looks now!
How long does it take to stain a deck?
Our deck is about 10 x 12 feet, with 3 steps and lots of spindles. Overall, it took about 6 hours, 1 gallon of stain, and only 2 close calls of the cats trying to walk through the fresh stain. Would have been a little easier without having to comfort Micah as he refused to nap, but he's cute so we'll forgive him.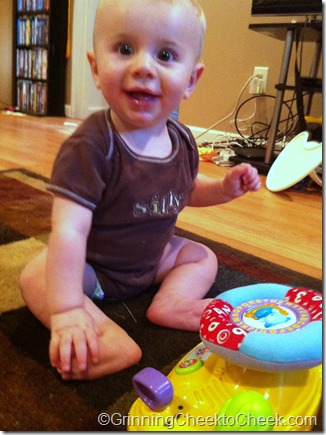 My husband loves projects around our house and yard. And our house loves to give us projects, like letting water flood into the basement and the garage door track snapping in two. Not to mention the neighbor's two-year long broken fence we mended and the fact that the yard had almost no grass when Peter bought it 4 years ago. Makes life interesting!