Being married for 10 (almost 11!) years and having two kids has really done a number to mine and my husbands Quality time together.  I mean – I love my husband dearly – but, I don't love that I don't get to 'date' him as much as we used to.
If I had the money, I'd be sure to have a regular weekly babysitter set up for certain days of the week so that my husband and I could get out… but that gets COSTLY!  Not to mention the cost of the actual date night activities (food, movies, shopping for groceries.. <—-Yep, a real ''date night winner').
Thankfully, neither of us really eat too much – and we both like the same foods (or, really – I like what I like, and my husband will eat just about anything!)  so we often times share a meal, so we can have an appetizer or a desert – and a little more variety to our dinner plans.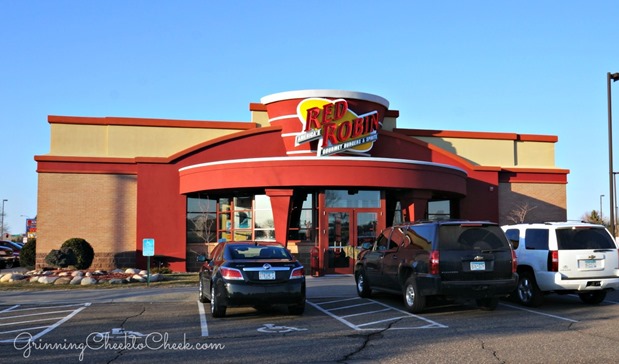 One of our 'old stomping grounds' – where my husband and I would take the drive to get to before we had kids – was Red Robin. And now that we've moved so much closer to the Red Robin in the area – we had not been back.  Not because we didn't remember it, but because we didn't often get the chance to go out, and when we paid a babysitter – we would usually do something more needed – like go to Target…
I missed their freckled lemonade (delicious chunky strawberry lemonade) – and their fried zucchini…Mmmm. (I haven't eaten dinner, and this sounds so amazing to me right now!)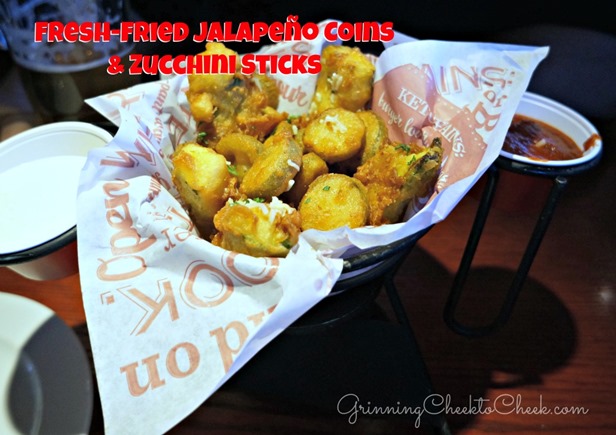 So I was *so* excited to have received a gift card from them to check it out again.  It really brought back some great memories of great date nights!
My husband and I both love teriyaki sauce – and therefore we absolutely love the Bonzai burger.  The Bonzai Burger is Marinated in teriyaki & topped with grilled pineapple, Cheddar cheese, crisp lettuce, tomatoes and mayo.  It is a messy burger – but sooo amazing.  We split this burger. I can usually take about 3-4 bites, before I hand the rest over to my husband to finish off…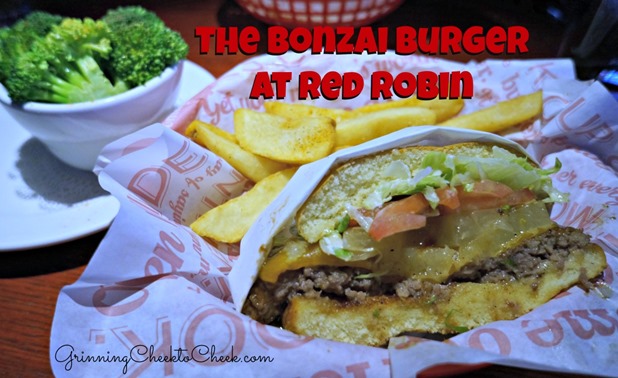 We also were able to enjoy a few drinks! I love me some Long Island Iced Tea's – so I got the T.N.T – which is Red Robin's version of the Long Island. Sooo good!  I love that for $7.99 the drink comes in a HUGE glass, and I definitely only needed one drink for the evening.
My hubs was able to get a tall beer, which he thoroughly enjoyed.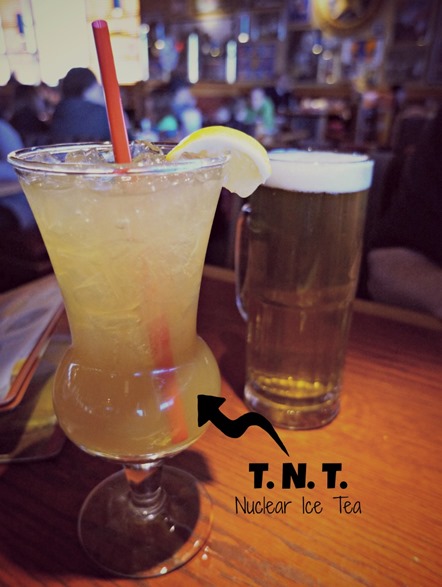 Now that we've got Red Robin back on our taste-buds – we're definitely making it a priority to visit again, soon.  I was looking at the kids menu and saw some really great things my kids would love, too – so maybe even a family date!
Have you ever been to a Red Robin?
Do you and your husband date? How often?