I am very excited to share our excitement about the new Daniel Tiger toys. I participated in this program on behalf of The Fred Rogers Company and The Motherhood. All opinions are my own.
I'm not usually one to plop my kids in front of the TV and tell them to memorize the songs, or to encourage them to watch. But when it comes to Daniel Tiger, I'm all in. I love when my kids watch Daniel Tiger, because they're getting lessons that they otherwise struggled with learning!  Now my kids are learning from Daniel Tiger and acting out their favorite 'make-believe' scenes with the new Daniel Tiger Toys.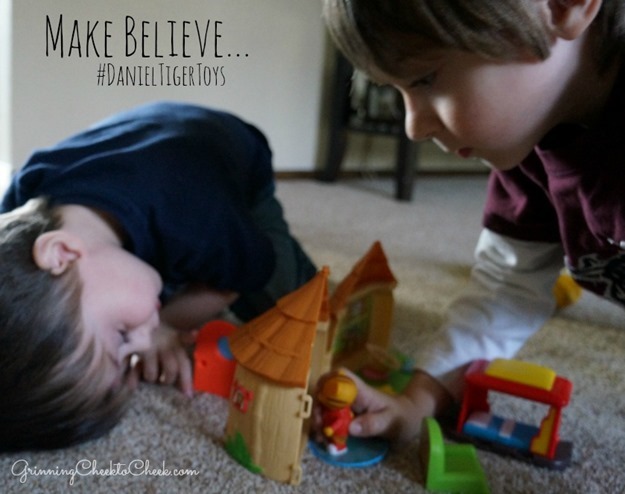 If you have toddlers, and have not yet discovered Daniel Tiger – I highly recommend that you set your TV to record the show on PBS – and you can check out episodes online, as well. Daniel Tiger's neighborhood is based closely on the Mr. Rogers Neighborhood series that ran back when we were young – and great detail has been taken to ensure the similarities between the shows – right down to the items in the background of Daniel when he is putting his shoes and his red-sweater on!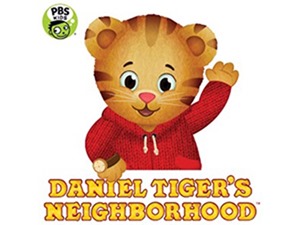 Daniel Tiger is among the top 10 highest-rated programs for preschoolers since its premiere, and among the top five highest-rated programs among moms. Every 30 minute episode is focused on a strategy and theme that will apply to a child's everyday life. Along with the theme, there is a little song that helps kids to remember the lesson.  Daniel has saved us from a few things like: Getting the kids to let us go on a Date without a fuss, and stopping their playtime in order to go to the bathroom (and the reminder to flush, and wash!).

Recently, Daniel Tiger's Neighborhood has released a new series of toys – so that your kids can enjoy playing with Daniel and using their imaginations to make-believe just like Daniel Tiger does in every episode.  We received Daniel Tiger's Bungalow Adventure Playset and a mini Daniel Tiger plush.
My youngest son loves all plushies, and especially loves this Daniel Tiger. He only wishes that he had a "Tigey" to hug as well!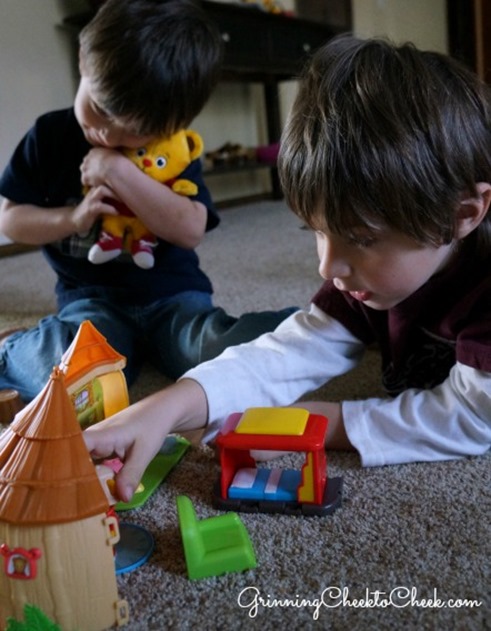 Both of the boys have spent much time with the Bungalow Adventure Playset and I have seen their imaginations run wild! I love how Ethan get's Daniel Tiger up to his face to say 'Mugga Mugga Daniel Tiger!'. I just Barely caught this on video…
I know, he is so cute… (If I do say so myself…!)
Myself along with a few other bloggers and the team of The Motherhood were able to have a phone conference with the producer, production manager and child development consultant for the show, and with the toy company who designed the toys. It was one of the coolest conference calls I've ever done, and I learned so much more than I ever thought I would about Daniel Tiger and the behind-the-scenes stuff that goes on to create each episode.

We also learned a lot about the toys and the research and care and attention to what children have responded to, making sure that they are using their imaginations to the best of their abilities when playing with the toys. I was also quite amazed learning about all of the care that goes into each episode – having each shows script brought to a preschool classroom, testing the themes out on them to see if they are understandable and relate-able for the preschoolers. I love that!

The Daniel Tiger Toys are available exclusively at Toys-R-Us, and range from mini-plush figures, all the way to large playsets with 'Trolley' having a track that goes from building to building. All of the small figurines can be articulated for more imaginative play. They are even working on some great toys for that will be released next month… I did get to see them, but they're top secret!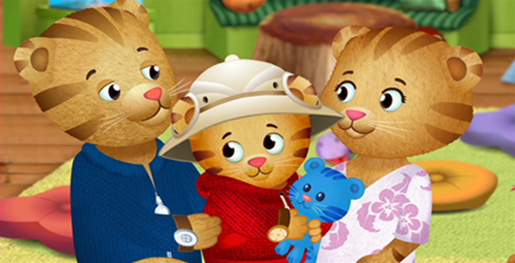 What type of Daniel Tiger toy would your children love to play with?