I'm pretty sure I've never met a person who openly admits that they don't have any weight to get off.
Honestly – even the skinniest friends I know are so concerned about their cellulite and their tiny skin folds on their tummies!  It's sickening, really. Try *my* body on for size, then you can complain 😉 lol!
Anyway – Spring is definitely the season around here to be more health conscious, and shed off the pounds that we gained over the winter and holidays.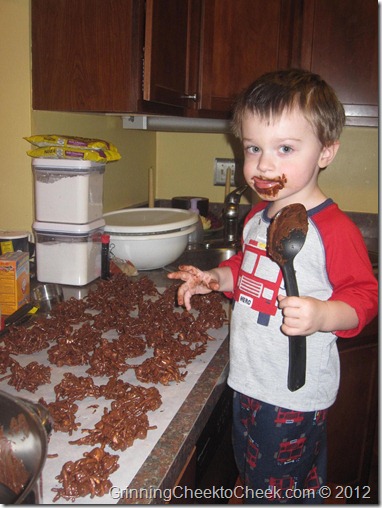 Chocolate Milk
One of the things that I learned in one of my personal training sessions at the gym (that I rarely ever visit… oi.) is the magic of Chocolate Milk!
Yes! Chocolate milk contains an optimal ratio of carbohydrate to protein that helps refuel tired muscles for active adults!
Chocolate Milk Is Nature's Sports Drink — Research published in the International Journal of Sports Nutrition and Exercise Metabolism on young adults showed that chocolate milk is twice as effective as commercial sports drinks to refuel exhausted muscles.
Dairy in general is a great way to fuel your body with the energy it needs.
Whey Protein
Whey protein is a high-quality protein found naturally in dairy foods, and it provides the protein your body can best use to help promote better health. It helps you get the most out of your workout by speeding muscle recovery after exercise and helping build and maintain lean muscle.
If you are always on the go like me, try this protein-packed smoothie, Peanut Butter and Banana Breakfast Shake.
Dairy
Three daily servings of nutrient-rich dairy foods (like milk, cheese or yogurt) deliver incomparable nutrition, value and taste. Make sure dairy is part of your spring fitness plan.
Learn more about how dairy fits your active lifestyle with recipes and helpful nutrition information at www.dairymakesense.com.
Win It!!!!
Midwest Dairy wants to power up your spring fitness routine with a
Get Moo-ving Pack.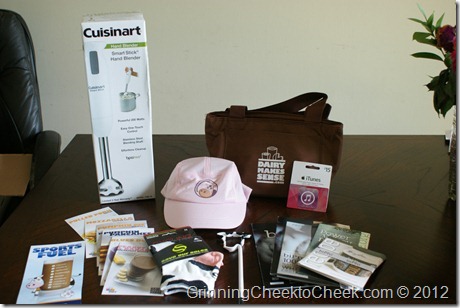 This fitness pack (valued at $100) provides you with all the essentials for your favorite outdoor activity, including an iTunes gift card, a Cuisinart hand blender for your post-workout smoothie, and Dairy Makes Sense gear.
How to Enter:
Mandatory Entry: Visit www.dairymakesense.com and leave a comment here telling me something that you've learned about dairy!
Then: Fill Out the Rafflecopter form below.
Be sure to come back each day for extra entries!!!
Rules: You do not have to be a blogger to enter/win. An email address is required to enter. The winner will be chosen randomly through Rafflecopter and contacted via email. A reply to the winning email is required within 48 hours before a new winner is chosen. One person entering per household please. US ONLY please.
This giveaway ends at 11:59 PM EST on May 31st, 2012.