A few weeks ago I was leaving for work, running about a minute late as per usual. Frantically getting the kids in the car and rushing back inside to grab my lunch. I realized that I hadn't made myself anything to eat that morning, and my lunch break wasn't going to be until after 2pm that day. I hurried and threw together some ingredients into my Nutribullet to make a smoothie – and I'm not exactly sure what happened, but long story short – the smoothie tasted… TERRIBLE. I took two big sips to hope to tide my belly over for a bit, dumping the rest – and rushed to the car.
When I was dropping off the kids with the sitter I realized how hungry I really was – and decided to see if she had a snack to-go style like a poptart or something that I could take for the road. She said, 'Well – I don't have poptarts – but I did just make some blueberry muffins! She threw some into a baggie and I ran out the door. So sweet!
And oh-my-word. They were the best blueberry muffins I'd ever had – so perfectly sweet and blueberry-y and crunchy on top.
For the days following, I was craving more blueberry muffins. I tried a few recipes. I wanted that crunchy top! The first few I tried were.. well – not great. The problem was mostly that the muffins had a strudel topping – I didn't want that. So I decided to just ask my sitter for her recipe – which she gladly handed over to me. (Yay!). In my research on blueberry muffin recipes I had discovered a few extra tricks for making your blueberry muffins extra tasty AND beautiful! I have made two large batches of this recipe and both times they have turned out perfectly.
Crunchy Top Blueberry Muffins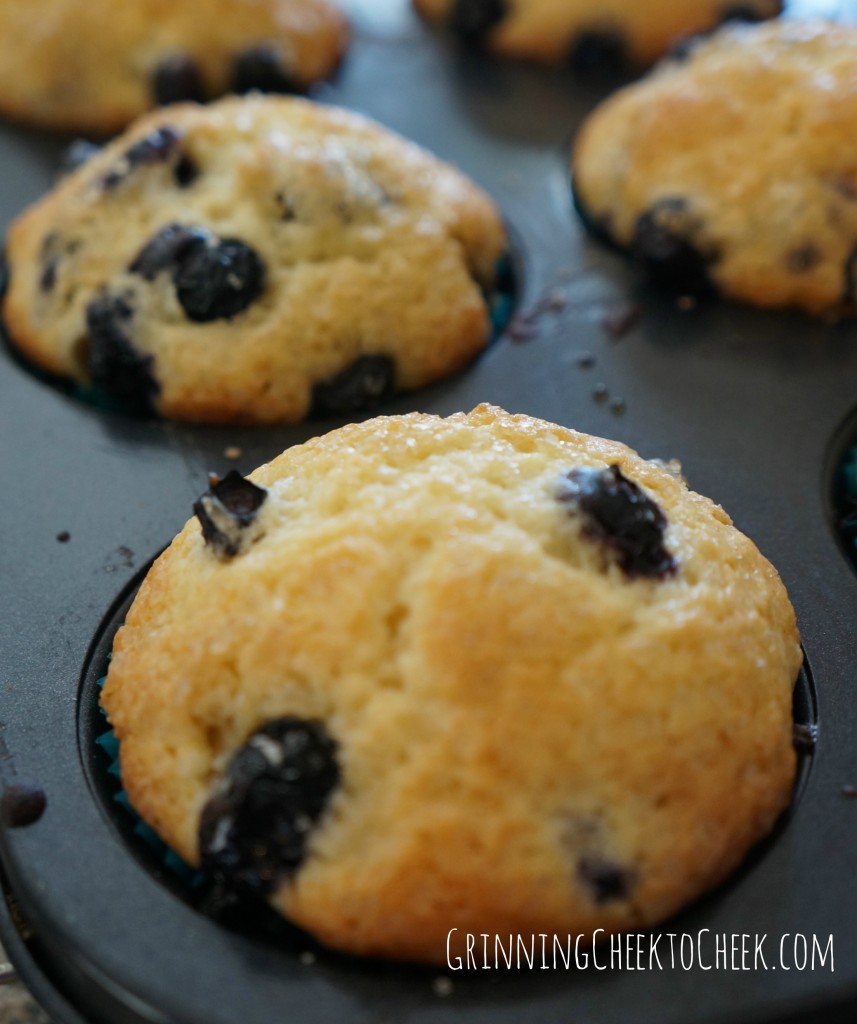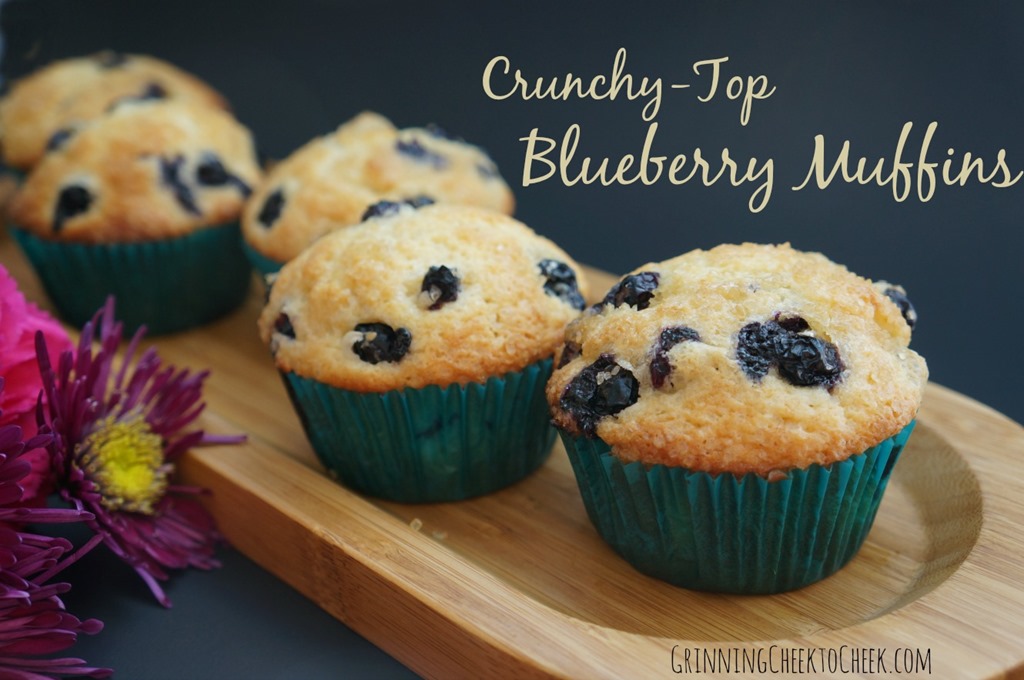 Crunchy Top Blueberry Muffins
2016-05-17 10:58:41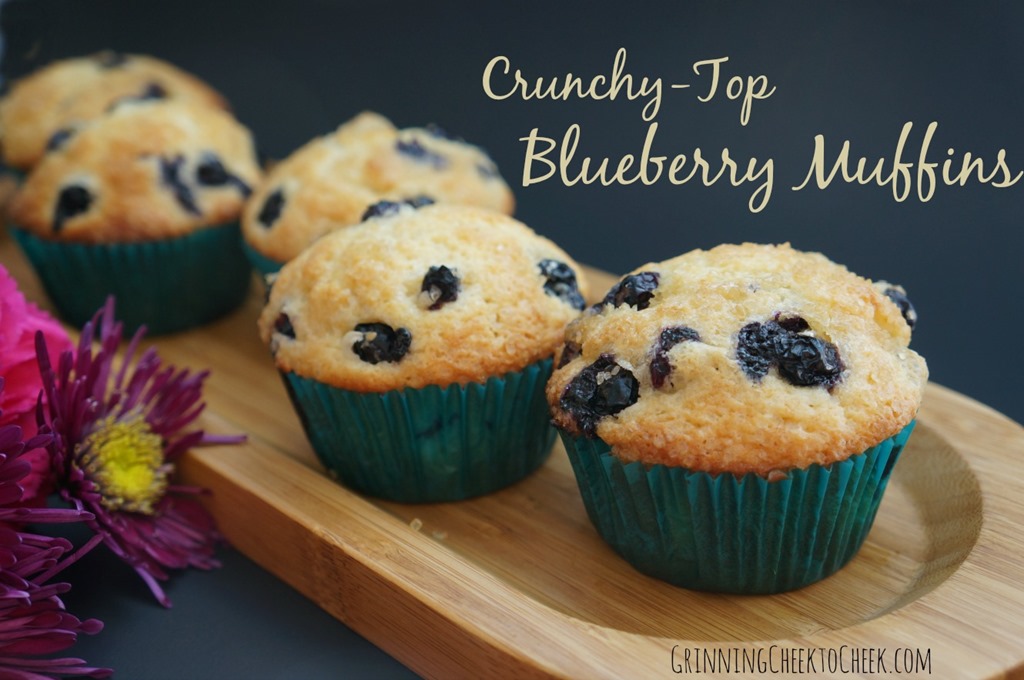 Serves 18
Nutrition Facts
Amount Per Serving
* Percent Daily Values are based on a 2,000 calorie diet. Your Daily Values may be higher or lower depending on your calorie needs.
Ingredients
2 Cups Flour
2 tsp. Baking Powder
1/4 tsp. Salt
1/2 Cup Butter, Softened
1 Cup Sugar
2 Eggs, Room Temperature
1/2 Cup Buttermilk (Regular milk works, too)
1 tsp. Vanilla (I have also omitted this and it tasted just as good)
1 Cup Blueberries (Fresh or frozen) plus extras for topping
Course Sugar for topping (Sugar in the Raw)
Instructions
Preheat oven to 375 F.
Line muffin pan with paper liners or grease the muffin pan.
In a small-medium sized bowl – mix flour, baking powder, and salt. Set aside.
Use a large bowl and mixer to cream butter and sugar.
Add in eggs one at a time and mix well. Add buttermilk and Vanilla. Mix well.
The rest of the mixing will be done by hand, so remove bowl from stand mixer.
Slowly add the dry mixture to the liquid mixture, mixing by hand until just incorporated.
Gently fold in blueberries.
Using a large cookie scoop or spoon – fill each liner 3/4 of the way full with mixture.
Here's the trick to making them extra pretty: Use 2-4 blueberries to top each muffin, pushing in just slightly into the dough.
Sprinkle course sugar over the top generously to create a nice crunchy topping.
Place muffins in preheated oven for 20-22 minutes – insert toothpick to be sure cooked through.
Grinning Cheek to Cheek http://www.grinningcheektocheek.com/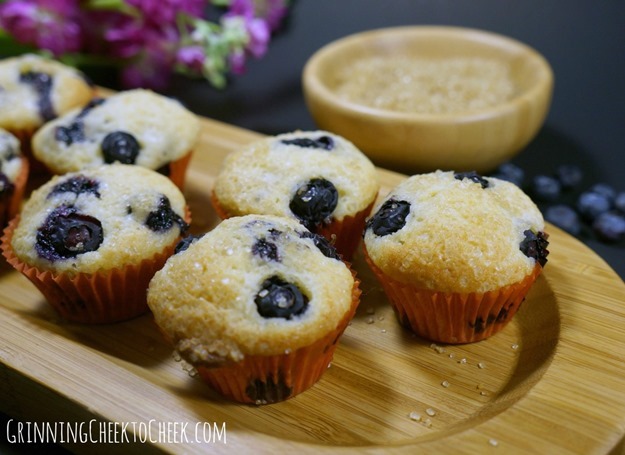 I also made several of them in a mini-version, which works just as well.. Just cooking these for 12-15 minutes until browned on top and toothpick is clean.