I was approached by CrazyforBargains.com to pick out a set of pajamas for myself and for my boys.  I *love* pajamas – so I thought I'd give them a try!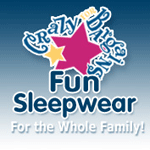 Given the extremely low pricing on their pajama sets, I wasn't expecting to get my next 'favorite' pair of pajamas… but they had some really cute styles and I even had a hard time deciding what I was going to get.
I picked out this set for myself: The Retro Capri Set:  At only $22.50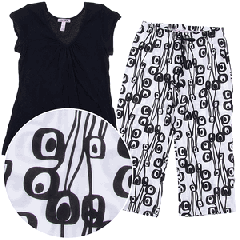 This one for Andrew: The Cars Pajamas (Since he loves Lightening McQueen) at only $15.99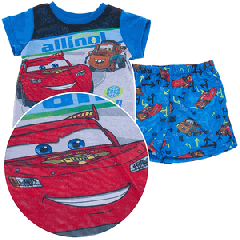 And This one for Ethan: The Fire Truck Pajamas (I love having the choice between shorts and pants for the little guys) Get this… Only $8.99!!!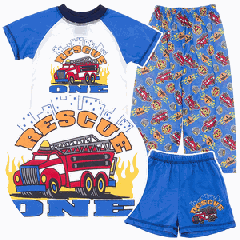 One thing that is really hard to tell through a website vs. going to a store to buy clothes is the quality of the fabric.  I'm always weary of having over starched fabrics that just feel gross and uncomfortable.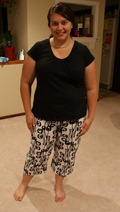 I got my package of pajamas during the weekend that we had family staying over – so I figured I'd give my cute PJ's a test run

  They were SOOOOOO.  ok.  that's not enough SOOOOO Comfortable! Actually the fabric was soft, and stretchy, and the pajamas were even slightly flattering on this chunky body of mine.
Slight problem though was that they did shrink after a time through the washer and dryer.  Keep that in mind. They still fit, but if I had to do it again, I'd just not dry them.  The shirt now sits right at my waist line and so when I bend over my back shows.. not a big deal for PJ's, but still unfortunate.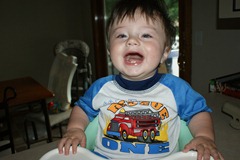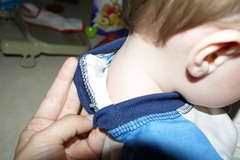 I loved Andrew and Ethan's PJ's. They were so cute

  I got Ethans in a size 12 mos – where he normally wears both 9mos and 12 mos clothing – so they fit perfectly.  Ethan's Pajamas had a HUGE tag on them that I had to cut off.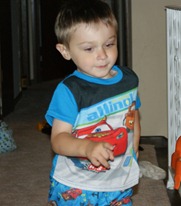 Andrew I got a size 3T because he's just getting into 3T (or still has a ways to go) but they weren't falling off of him or anything, so they're nice! He's so cute and loves to show off that McQueen is on his shirt.
(Oh my gosh my son looks freakishly like my brother in this picture.  SCARY.)
I'll definitely be heading back to CrazyforBargains.com to get some more pajamas in the future.  They're so cute and comfy and most of all AFFORDABLE!
Giveaway!!!!
One Lucky winner will receive a $25 credit to CrazyForBargains.com along with free shipping!  Winner will need to call in their order vs. order online.
Click for Instructions for entry
This first entry is MANDATORY: Visit CrazyforBargains.com and tell me what you'd pick if you won!
Optional Extra Entries: (only after mandatory entry is done!)
Subscribe to my blog via email
Like GrinningCheektoCheek on Facebook
Follow my blog publicly via GFC
Follow my blog via Networked Blogs
Post my Button on your blog. (two entries)
Blog about this giveaway, including a link directly to the giveaway (Five Entries)
Follow GrinCheek2Cheek on Twitter on twitter and tweet about this giveaway:
#Win $25 credit towards CrazyforBargains.com for Pajamas, slippers, and more! @GrinCheek2Cheek #Giveaway Ends 8/26  http://www.grinningcheektocheek.com/crazyforbargains-com
NEW: Post my link on any of

that day's

CURRENT

Public Giveaway linky for this giveaway.  Should say something like – GC2C– $25 To CrazyForBargains.com Pajamas & More – Ends 8/26 *and the link*. Comment to me the link to where you submitted it. (i.e. for a Tuesday Giveaway Linky – post it anytime before midnight that same Tuesday) One entry per linky posted on.
Open to U.S. only.  Giveaway ends August 26th, 2011 at 11:59pm. Winner  will be drawn by 'andthewinneris…' the following day, and will be e-mailed. Winner will have 48 hours to respond or a new winner will be drawn