So. I think we've finally gotten over the "Hurdle" of missing our Pampers and Huggies. Granted. There are those few occasions where we terribly miss them still – but we're mostly over it. We've mostly gotten the wetness factor under control; and we're washing sheets a lot less frequently now.
Thank God!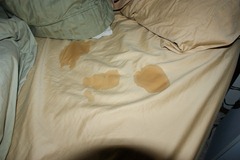 I don't know if I mentioned much of the background of what we used to do.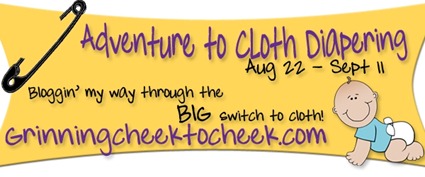 Andrew is a bit over 2 1/2 years old – and when he was born we used Pampers on him. Until he got to a size 4. That's where I felt that pampers started not working as well for him, and we tried all the generics (which we were terribly disappointed with) and then switched over to Huggies – which we stuck with until now.
Ethan on the other hand is 9 months old, and he has been a pampers baby since the beginning. Every time I ever put a Huggies diaper on him(which we had several smaller packages of) I would have to bathe him right afterwards because of the little Gel Beads. I learned my lesson on generic diapers back with Andrew, and never purchased them myself for Ethan.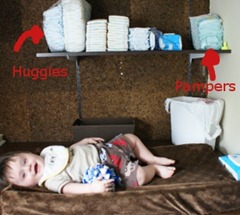 Its funny how the both boys needed different brands of diapers. I wonder if it has more to do with the content of their urine vs. the diaper itself?? Maybe Similac has a partnership with Pampers that makes Huggies diapers suck for Simliac babies

LOL. <Although Andrew drank Sams Club formula which is based off of the Enfamil formulas, and he used Pampers until he was around age 1> Conspiracy's I tell you!!
A week from today I am starting the 'Adventures to Cloth Diapering' Event so – be sure you check out this post and snag the button and leave a comment there telling me you did so – that way you can get an extra entry into each of my awesome giveaways!!!