Being a parent really means that you have to learn to roll-with-it. I have the silly flaw of getting stressed by a mess. I grew up with a mess, and pets that always were more messy than any child: so I have worked rather hard to reduce clutter and mess in my adult life (for the most part!). Weirdly enough, I have been obsessed with clean floors over clean countertops – so when we had children, and then purchased a home with very light colored carpeting – life became rather interesting. I had to learn to roll, as well as learn the secrets to keeping my floors clean! Sometimes, the best solution is a little bit of laughter – plus a bottle of Clorox® Regular-Bleach.
My Bleachable Moment: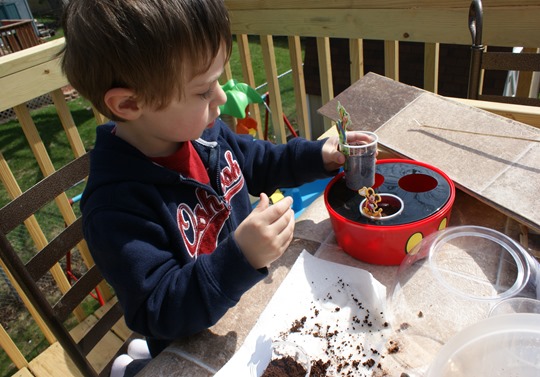 A few years ago, Andrew and I started growing a garden a little early with the help of this Mickey Mouse Greenhouse. We watered and waited, and watered, and waited some more… and finally we were starting to see the seeds sprout.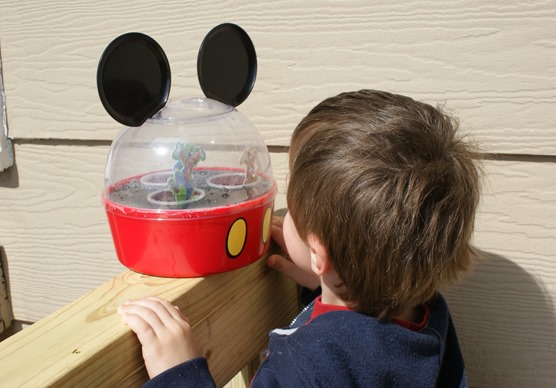 At the time, Andrew was 3 and Ethan was just about 18 months old. So one day when I was doing something.. I forget – probably helping Andrew with something: I heard a crash. No one was crying, so I figured he just dropped a toy or something. I finished up what I was doing, and then headed on my merry way. As soon as I stepped out to the living room – I saw footprints. Dark brown footprints in my very light colored carpet… NOT GOOD.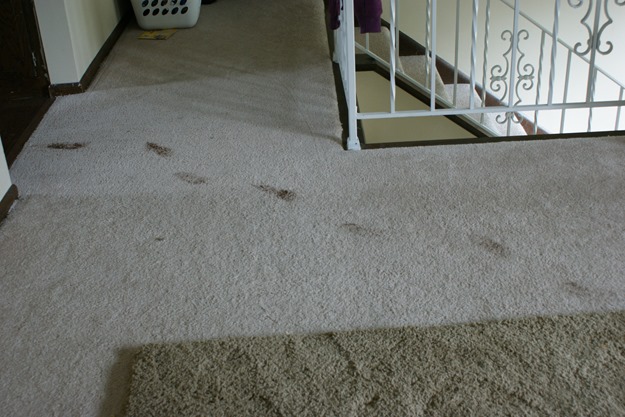 I see Ethan sitting on the ground in the living room – playing with some toys – with dark brown feet.
So I followed the footprints, and found this: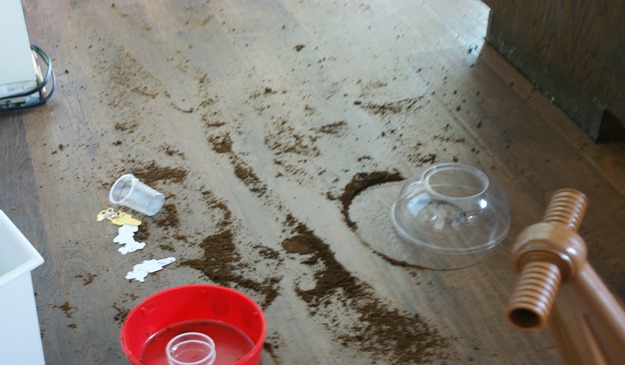 On nice days – we would leave the sliding door open to the deck – and since we had a locked gate on our deck before the stairs – the kids could go in and out freely: mostly to play with the water table. So Ethan had apparently brought in the mickey mouse garden, and dropped it… and obviously dumped the rest of the cups out – playing in the dirt on the floor – and then got bored.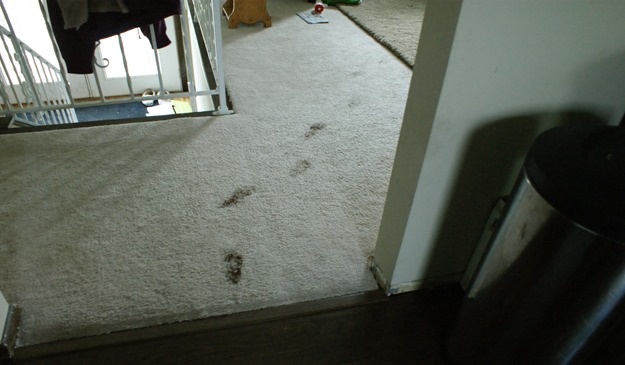 This was definitely a bleachable moment – as much of the dirt was muddy.  I know that I've had some other pretty amazing 'bleachable' moments – but none that I've specifically photographed, so this was by far the best one to tell. Thankfully now – we've got some new carpet from Carpet One that we LOVE! that isn't so white colored – and looks so much cleaner when it's empty!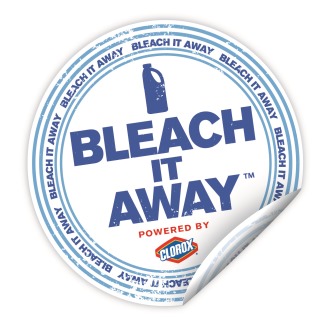 Have you Recently survived a funny 'bleachable moment'? Share your bleachable moment at www.bleachitaway.com for a chance to win $20,000 and more! All submissions will receive a coupon for their next purchase of bleach. After submission – visitors can also come back each week to vote for the best mess in the week's Moment Showdown to determine which messes move on for the chance to win the grand prize. There are some other great prizes as well: like a weekly $50 gift card chosen by Clorox!
ALSO: There is a fantastic #BleachItAway Twitter Party happening this Wednesday, March 12th at 1pm Eastern – They're giving away awesome prizes and sharing lots of great bleachable moments! For more details and RSVP info: Check out this post.
This post was written as part of the Bleach it Away campaign through Clorox and The Motherhood. All opinions are 100% my own.