A big 'HONK' to all of my Chuggington fans out there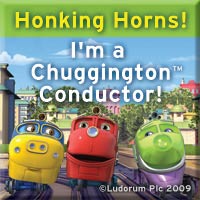 If you're an avid fan, you've probably realized by now that the newest season of Chuggington has already kicked off on the Disney Channel – as well as on The Disney Junior Channel (Which I'm sad to say my area doesn't carry the channel for our new DirecTV service) as of March 26th.
If you'd like to check out Chuggington and see what all the commotion is about – Ride the Rails on over to your Disney Channel station at 7:30am EST.
If you are lucky enough to have access to the Disney Junior Channel – you can also tune in there!
The third season of Chuggington is full of new and exciting adventures as Wilson, Brewster, and Koko learn to navigate the rails of Chuggington with help from new and familiar friends.
Also, Keep your eyes peeled for a very awesome review and giveaway coming on this site!

  You won't want to miss this if you have Trainee's who love Chuggington!