Are you a procrastinator when it comes to planning your children's birthday parties? It's so easy to put it off and forget it, and it only happens once a year but it kind of ends up sneaking up on you, right?
Andrew's birthday is only a few weeks before Christmas, and the entire month of December is so crazy for us that my brain is hardly functioning – and certainly not able to focus on planning a birthday party! So I am really excited to have almost everything I need ready for his party already – and it's not quite June! Having things set up beforehand (and knowing he's going to love it!) is a great feeling.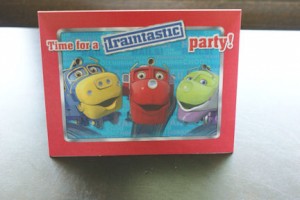 It's abso-TOOT-ly TrainTastic that Andrew is going to have a Chuggington themed birthday party this year. Cheesy, I know, but if you've ever watched Chuggington, you'll get it! 🙂
This party is going to be great! The kids are the Trainees, and parents are the Conductors. The trains (Wilson, Brewster, and Koko) are cool enough to make any kid's birthday party a blast!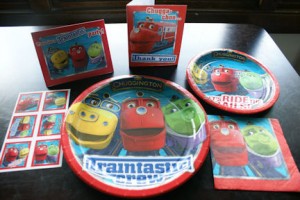 If you're a regular pinterest user – I've even made a pinterest album with awesome ideas for Andrew's Chuggington Birthday Party!!!! Check it out here: pinterest.com/grincheek2cheek/chuggington/
The Chuggington supplies are available online from Party City. Follow Chuggington on Facebook for more information.