Who doesn't love Chuck E. Cheese?!  We love it because the food is great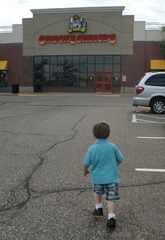 and the entertainment is long lasting, and well rewarded.  It's indoors – which is especially perfect for places like Minneosta where the weather is either freezing, or boiling.
The best part about Chuck E. Cheese for us though, is that they are relatively inexpensive.  We can get our family there for under $30 (with a coupon)and have a night of entertainment, fun, and pizza – and leave with a very tired set of children!
I have always enjoyed Chuck E. Cheese's Pizza, but now – it's even better!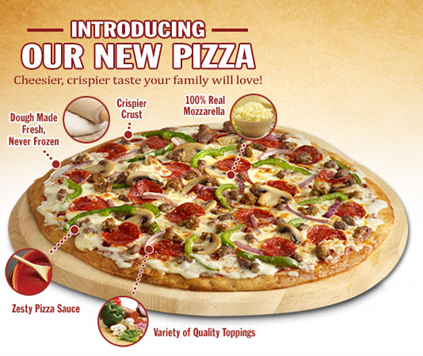 With fresh cheese and dough, and high-quality toppings, this cheesier, crispier, tastier pizza is sure to please the palate of pizza lovers both young and old.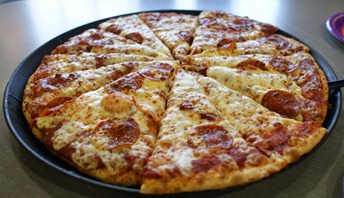 We were able to go to Chuck E. Cheese and sample their new pizza, four drinks, and 30 game tokens with a Guest pass – and we loved their pizza!
Even Ethan loved it!
Andrew got enough tickets to get some cotton candy (which, as a Dental Hygeinist – I highly recommend following up with a toothbrush

) but… Andrew hated it.  haha!! He loves the idea of it, and the bright colors of it – but couldn't stand the taste or texture or something.  He kept wanting to try it, but would shake his head in disgust and spit every time it touched his tongue.  – too funny.
When you're looking for your next night out with the family, Chuck E Cheese is a great place to visit – Just be sure to sign up for their emails, and you'll be sure to always have a set of coupons to print off, and make your night that much easier!

Giveaway!!!!
Three Lucky winners will receive a Guest Pass of their own for Chuck E. Cheese's to have a Large Pizza, Four Drinks, and 30 Game Tokens! (a $30 Value!)
Click for Instructions for entry
This first entry is MANDATORY: Have you ever been to Chuck E. Cheese?? What's your Favorite Part about going?
Optional Extra Entries: (only after mandatory entry is done!)
Subscribe to my blog via email
Like GrinningCheektoCheek on Facebook
Like Chuck E. Cheese on Facebook
Follow my blog publicly via GFC
Follow my blog via Networked Blogs
Post my Button on your blog. (two entries)
Blog about this giveaway, including a link directly to the giveaway (Five Entries)
Follow GrinCheek2Cheek on Twitter on twitter and tweet about this giveaway:  (this may be done twice daily, at least 2 hours apart)
#Win one of Three Guest Passes to Chuck E. Cheese for a Free Pizza, Drinks, and Tokens @GrinCheek2Cheek #Giveaway Ends 8/19  http://www.grinningcheektocheek.com/chuck-e-cheese
NEW: Post my link on any of

that day's

CURRENT

Public Giveaway linky for this giveaway.  Should say something like – GC2C– Chuck E. Cheese Guest Pass – 3 Winners! – Ends 8/19 *and the link*. Comment to me the link to where you submitted it. (i.e. for a Tuesday Giveaway Linky – post it anytime before midnight that same Tuesday) One entry per linky posted on.
Open to U.S. only.  Giveaway ends August 19th, 2011 at 11:59pm. Winner  will be drawn by 'andthewinneris…' the following day, and will be e-mailed. Winner will have 48 hours to respond or a new winner will be drawn.