Being a homeowner has it's up's and downs.  Being a homeowner guarantees that you're going to deal with (several!) home annoyances.
In fact, we have several – many of which we need to take care of sooner than later – and others that are just annoying but don't necessarily require any action. It is very important to distinguish between annoyance and necessity.
Annoyance:
While laying down the new flooring in the kitchen, my husband had to move the refrigerator around a bit.  In this process he managed to kink the copper water connector, creating a lesser water flow to our ice cube tray and water dispenser.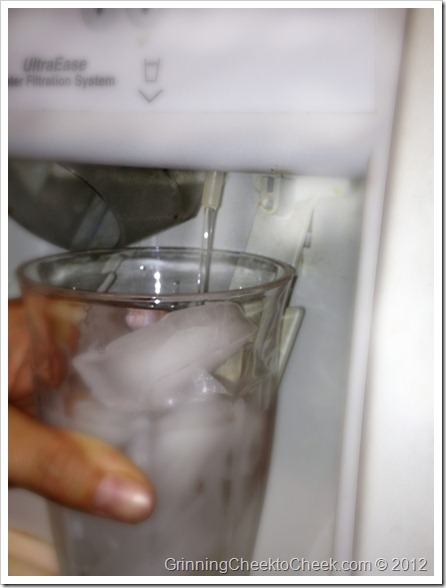 Annoying?  Yeah – We have holy ice and it takes more than 2 minutes to fill a small cup full of filtered water.  It's one of those things that is annoying and can be fixed – but is not life threatening, or annoying enough to change.
But when it comes to home annoyances like chirping in the middle of the night – research is showing that more often than not, homeowners are choosing to pull the batteries on smoke and carbon monoxide detectors rather than replacing the batteries before they become in the danger zone.
Not Aggravated Enough to Act
• 53 percent of homeowners deem a smoke alarm low-battery chirp annoying, but one in three homeowners (33%) say that if they heard the chirp, they would not be extremely likely to replace the battery within 24 hours.
• Seven percent of homeowners confess that they'd be more likely to disconnect the alarm than install a new battery.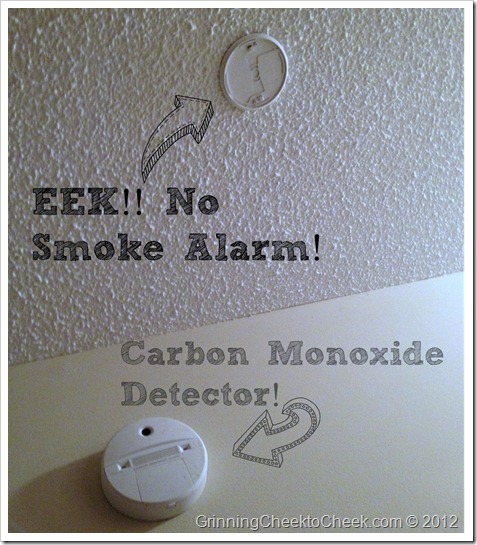 I'll be totally honest.  I have *totally* pulled fire alarms out of my home.  This home, and the last. I pulled the smoke detector out of our bedroom, because every time we took a shower, the steam from the shower would set off the alarm.  We have one RIGHT outside the bedroom, so I'm not horribly concerned about it – but it's still not totally safe.
I also have dealt with the 'chirp' lately from almost every alarm in our house these past few months.  I did not pull the batteries out, because then I would forget, and have a false sense of security of being alarmed when carbon monoxide or fire fills our home.
I took it as my continuous reminder that we needed to buy batteries.
But batteries, are NOT cheap.  Especially those dreaded 9Volt batteries!  I'm talking like $10+ for 4 batteries!  I have 10 alarms in my house. It really made me think about that Change the Clock, Change the Battery campaign –  that could get rather costly replacing all 10 batteries, twice a year!
But then I got an email from Kidde – talking about their newest smoke alarms with a 10 year battery life! The smoke alarms are always on, and by using a lithium ion battery, they are able to get 10 years of use out of the battery.  After 10 years it is recommended to replace the alarm regardless of whether or not the battery is working.
Their new alarms are also sensitive to home annoyances: Like burnt toast, showers, and other false alarms.  They have a more sophisticated algorithm, as well as a 'hush' button, which will suspend the beeping on an alarm for up to 10 minutes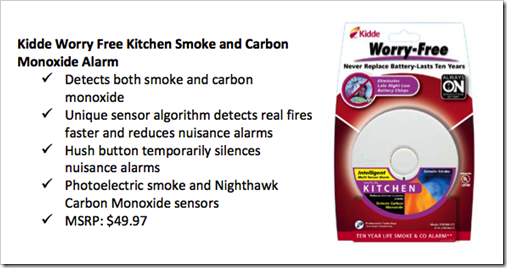 Kidde has several types of alarms, which I am VERY excited about actually!  They have alarms specific to areas of the house that the alarms are located, i.e. the Kitchen.  The Kitchen alarm is the most annoying alarm, because we have falsely set it off SO many times: and therefore get tempted to remove the alarm all together.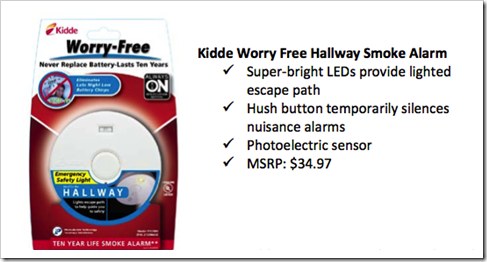 I received the Hallway Alarm from Kidde, which is Lighted with LEDs to provide you with an escape path during a fire.  While searching my house, I realized that my Hallway smoke alarm was MISSING! I'm guessing my husband got annoyed with it chirping or going off constantly – and pulled it.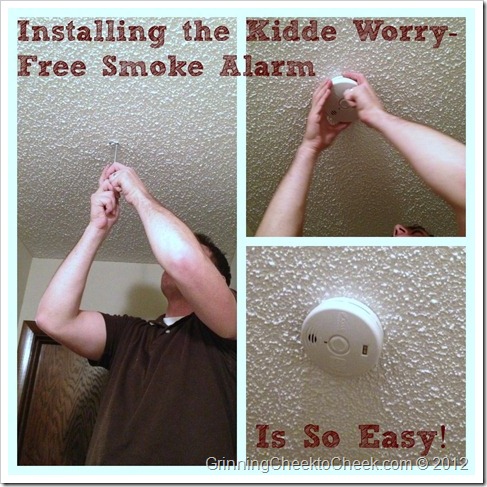 So I made him re-install this one.  It's easy to install, taking him less than 3 minutes overall – and could possibly help save our lives!
Want some Worry-Free Annoyance-Less alarms from Kidde?  These alarms range in price from $25 – $50, and can be found at Home Depot stores or online at HomeDepot.com.  To stay up-to-date with the latest from Kidde – find them on Facebook and Twitter!
Win It!!!!
One Lucky GC2C Reader will Win a 2-pack Kidde Worry-Free Smoke Alarms (Hallway and Bedroom Alarms)  ERV: $65
How to Enter:
Mandatory Entry: Leave a relevant comment on this post.
Then: Fill out the rafflecopter form.
Be sure to come back each day for extra entries!!
Rules: You do not have to be a blogger to enter/win. An email address is required to enter. The winner will be chosen randomly through Rafflecopter and contacted via email. A reply to the winning email is required within 48 hours before a new winner is chosen. One person entering per household please. US only please.
This giveaway ends at 11:59 PM EST on December 7th, 2012.
I received a Kidde Hallway alarm to review plus a gift card for telling you about another home annoyance of mine.  I love the Kidde products, and have learned so much more than I would have imagined! I am positive that you will love these, and the compensation I received in no way influences my opinion on them.