One of my bigger problems when I go to eat out (and even more so if I am pregnant) is decided what ONE thing I want to eat.   So I love when I get the chance to order an appetizer along with my meal, because I get that much more variety. I tend to go for the sampler type appetizers where you get a little bit of everything – again, for the even bigger variety!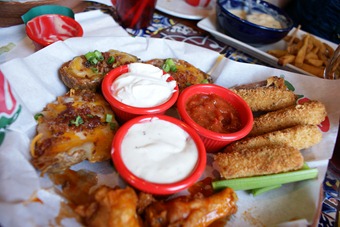 Now at Chili's you can choose your own three appetizers to come in your Triple Dipper platter  – and I'm so excited about it!! I got a chance to go to Chili's with my Mom and my boys for lunch and review their Triple Dipper:  I chose the Wings Over Buffalo; the Loaded Potato Skins; and some Fried Cheese.  (I started eating before I took the picture – so I'm missing some buffalo wings!)
I loved the buffalo wings; and I loved the potato skins with some ranch dressing over them – but the fried cheese just wasn't quite what I was expecting.  They were fine – and they tasted good – just not my favorite.  Our table got several other items as well – My mom got the Southwestern Eggrolls – and boy – those… were.. KILLER! YuM! I know now that I won't be going back to Chili's without an order of those Southwestern Eggrolls!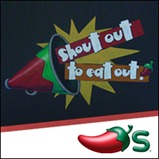 Chili's also has a promotion going called Shout Out to Eat Out Triple Dipper Sweepstake! – and if you go to their website www.shoutouttoeatout.com/ you can enter to win a $333 Chili's Gift Card!
Giveaway Party!!! (Has ended. Sorry!)