So pre-children, I continuously thought to myself how much I wanted a girl. …To dress her up in the cutest little clothes and do her hair and all that stuff…
But what I didn't realize – was the never ending obsession of having cute clothes!
Thankfully, by having two boys I was able to tone down the shopping habits quite a bit – but Man, There are seriously still some REALLY cute stuff for boys.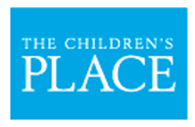 One of my favorite stores to shop at for the cutest boy clothes is The Children's Place.  Originally I thought of them as an expensive 'Mall Store'.  But when I went in there for the first time, I discovered that the stereotype wasn't true. At All.
In fact, I instantly fell in love with the style there – and was able to walk out of the store with a full season's worth of clothes for my son and all under $100.
So now pretty much each season, we make our trip to The Children's Place and load up on clothes for the boys.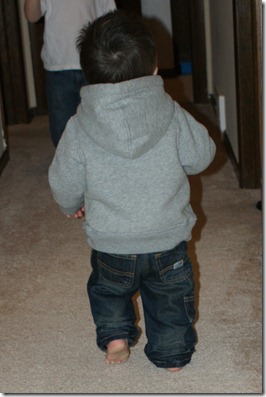 Not sure why, but I got hooked on one brand of Jeans for my boys since Andrew was born – and haven't used any other brands.  I was given this pair of Jeans from Children's Place for Ethan, and Oh My Goodness! They're just so adorable, I can hardly contain myself from pinching his little butt!
So Guess what?  We're changing brands

I love these zip-up hoodies that have the thick fuzzy lining in them.  Of Course I think they're sold out online right now, because I can't seem to find them anywhere, but we've gotten this type of sweatshirt for our boys each fall and use them as a jacket for days when it's more mild outside. They're SO cute, and easier to wash than a regular jacket.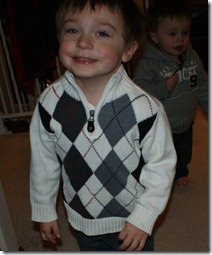 Andrew also got a really nice sweater that will work perfectly for Christmas.  I love how sharp he looks in sweaters.
I also love how easy these are to wash – no special instructions. Just wash, and Dry

Sizing:
The Children's Place Clothing does run generally a size larger than most other places that I've shopped at.  So when I buy 12 month stuff for Ethan, It's like I'm buying size 18 months.
It's not really a big deal so long as you remember!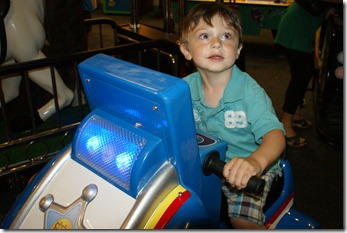 This summer I totally forgot about the sizing when I bought Andrew's entire summer wardrobe.  I bought them all in size 3T, when he was just barely getting toward the end of 2T clothes.  I just figured I didn't want to buy him a new size halfway through the summer, you know?
The shirts drowned Andrew – and the shorts! HA!! I thank God that they had the pull-to-size elastic in them!
I was able to use the shorts, but bought a new set of shirts (Which were on clearance) in size 2T and we made it through the summer.  Next summer he can wear his 3T shirts and will most likely still fit into his 3T shorts from last summer

  So we're set for a while!  Great Deal!
Check Them Out!
I'm sure you can tell by now that we're big fans of The Children's Place – So be sure to give them some love for me!

  Check them out on Facebook and Twitter – and if you're looking for any last minute Holiday Ideas, be sure to check out their HUGE sale going on right now.