Micah is getting mobile, so baby proofing is a must! Even in our little house, there are LOTS of dangers. Peter secured the tv down and put protective padding over the edges of the tv stand. We put all electronics out of sight and hard to reach, and put anything breakable up high.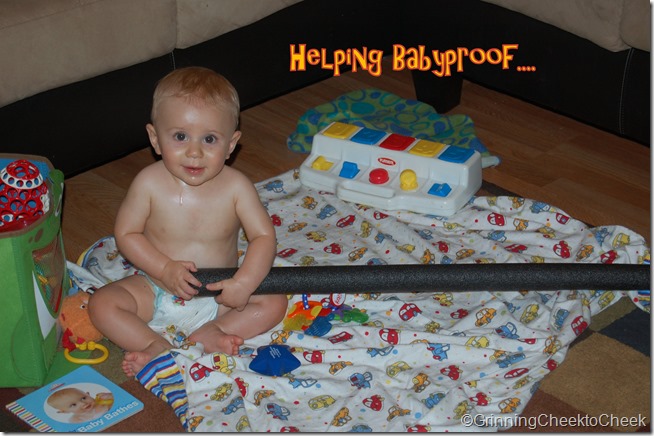 Dreambaby® Safety Products work Great!
I put Dreambaby® multipurpose latches on the cabinet doors in the kitchen and bathroom; I *love* this multipurpose latch. It works to latch just about anything closed, just stick one end on each side! The latch is easy for an adult to operate, definitely child-proof. I also put Dreambaby® outlet covers on all our outlets; they are simple and fairly standard but incredibly important! My brother once stuck a nail in an outlet and was very lucky it had a metal cover that closed the loop on that same arm without the electricity passing through his body.
I'm using my Swiffer items to try to keep all the little non-edible pieces of everything off the floor so Micah won't eat them. A friend gave us a baby gate. And I know that when the house gets quiet, or I hear squeals of delight, I have to verify Micah's location in case he has found a new "toy".
And he's bound to get more and more adventurous, so as time goes on and he gets older, I will constantly be looking for more safety items to keep him safe and out of the ER. I joke with people that "it's ok because I know a good nurse" but I still never want to see my baby hurt, especially if I can prevent it.

Dreambaby® Safety Products
Dreambaby® is an excellent company that provides many safety products for families and their loved ones. They have the products I mentioned above, as well as just about everything else you can imagine for baby and child safety, from caution signs to sun screens to all those "Oh I better get that!" items. And Dreambaby® items are practical, so you know you aren't wasting your money on worthless, hyped-up products.  And guess what?!?
It's Dreambaby's®  15th Birthday. That's 15 years of working together with parents to help make homes safer for babies and toddlers. We think that's worth celebrating so we are going to give away one prize pack packed full with 15 of Dreambaby's® most popular safety solutions (check out the giveaway below!). With a wide selection of safety items, you will be well on your way to a safe house and play area.
The Dreambaby® story his very close to home as it was literally born when Sydney couple Tony and Carolyn Ziegler; founders of Dreambaby® became parents for the first time! "We discovered first hand, the real need for a practical range of home safety solutions for infants and toddlers that helped keep our daughters safer but didn't impact on their early childhood development," said Carolyn.
Today, Dreambaby® is available in over 100 countries on every continent worldwide, with Dreambaby® packaging being translated into over 15 languages. "We have also always moved with technology and the times. We have worked with online retailers for years and we now boast a strong website and have a fantastic number of "how to" product demonstrations and general safety videos on YouTube via our Dreambaby® TV channel."
There is no stopping this Australian family-owned business, as the next generation of the Ziegler family (yes those little girls grew up!) are now very much a part of the future continuation and everyday operation of the Dreambaby® brand! "Here's to another 15 years and indeed many more Dreambaby® birthdays!" concludes Carolyn.
For more information about Dreambaby® visit them online  and to be part of the safety conversation, like Dreambaby® on Facebook.
Win a Dreambaby® Prize Pack (pictured above)!
How to Enter:
Mandatory Entry: Look at the Dreambaby® website and comment about a product you would love.
Then: Fill out the Rafflecopter form.
Be sure to come back each day for extra entries!!   
Rules: You do not have to be a blogger to enter/win. An email address is required to enter. The winner will be chosen randomly through Rafflecopter and contacted via the email registered in Rafflecopter. A reply to the winning email is required within 48 hours before a new winner is chosen. One person entering per household please. US or Canada only please.
This giveaway ends at 11:59 PM EST on August 30th, 2013
Package includes: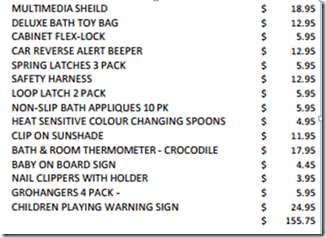 Dreambaby® provided some of the content, links, and compensation for this post. Opinions are 100% my own.