If you've never heard of a cheese curd, Listen uP!   I'm going to explain them to you – and make you want them ever so badly

While participating in the Dialect Vlog Hop – I noticed that not many people have even ever HEARD of a cheese curd! Coming from Minnesota, (right next to Wisconsin) EVERYONE here has heard of cheese curds, and I'd even venture to say that Most people I know have tried them – and probably most people I know, love them – at least in moderation.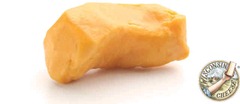 A cheese curd is cheddar cheese in its natural, random shape and form before being processed into blocks of cheddar.
There are two ways that I love cheese curds:  Fresh, or Deep Fried with Batter.
Fresh Cheese Curds:
Fresh cheese curds are famous for their 'squeak'.  I learned once at a cheese shop in Wisconsin, that if the curds are at room temperature, they will have the squeak – and they taste much better.  You can also microwave them slightly to regain the squeak to them.  Their texture is unique. It feels much like string or mozzarella cheese –but a little bit slipperier, and when you squeeze the curds; they are springy or rubbery feeling.  It sounds gross – but they're delicious, so just hear me out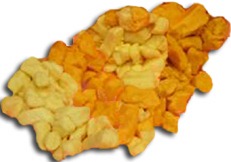 Curds have many flavors – but typically I purchase the plain varieties: white or yellow cheddar.  They are mild in taste, and highly addicting.  There is a reason that they are typically sold in larger bags.  You say you only want one; but 15-20 curds later – you realize that you should have bought more.
Deep Fried Cheese Curds:
Basically, a Deep Fried Cheese Curd is the same as a fresh cheese curd, but it is dipped in a batter and then deep fried.  You then get a delicious, crispy – but slightly greasy outer shell; with ooey-gooey insides that melts in your mouth! This is making me so stinking hungry for Cheese Curds!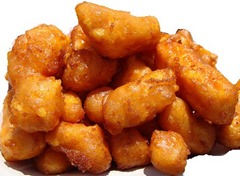 They are typically found around here at any county fair or more popularly, the state fair.  I could probably find the statistics reporting how many hundreds of thousands of pounds of cheese curds the MN state fair goes through; but I'm kinda tired

It's a for-sure item on my trips to the state fair.  I usually get them on the 4th of July at the local fair we are at as well.
I still am in total awe that I am privileged enough to have known and tasted and enjoyed cheese curds – but many of you had NO idea!

But now you know – and you need to try them

Next time you come to MN to visit the Mall of America, find a place that sells them. I know there is a cheese shop that sells fresh cheese curds; and I'm sure there is a restaurant that deep fries cheese curds just for your lunch, or whatever!
All of the information I gave you is coming from my heart, as well as from this website which talks about the origin of Wisconsin Cheese Curds: and is much, much more detailed than I have posted.  You can also purchase fresh cheese curds and cheese curd batter so you can fry up your own delicious cheese curds at home!