The next diaper I am reviewing is a sized diaper. Sounds similar, but not to be confused with a 'fitted' diaper. Yes, I made that mistake – many times now – and confused a lot of people I was talking to.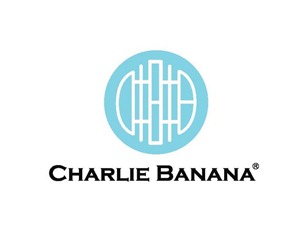 Anyway, Charlie Banana has several types of diapers. They have a sized diaper, like the one I'm reviewing, and they also have One-Size diapers that are adjustable.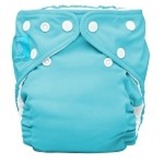 Charlie Banana has a few options for diaper inserts – they actually have a disposable insert that you can purchase – but I just don't see the real practicality of that for us. Especially considering that I am doing cloth mainly for the cost effectiveness.. and the disposable inserts running around $0.49/ea – plus buying the diaper – No. Thank you.
My Ratings:
See this post to find out more about my rating scale.


This diaper comes with two inserts – One is plenty – but the second one if you know that you're going to be leaving them in the diaper a little longer, like nap time or for a trip to the store.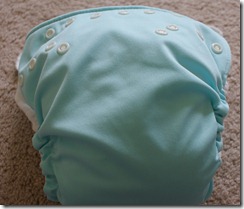 I love that the inserts are clearly labeled with their tag, so they're easy to distinguish between these inserts and those from other diapers which do not have labels.


This diaper fits both boys actually. I got a medium size – which says that it covers the range of 5-24 mos or 15-30lbs. Andrew is 35lbs and fits in them. They are a little snug for him – but they fit. Ethan fits better into them at 23lbs.
The fabric inside is SO soft and snuggly.
The leg gussets for the sized diaper is non-adjustable, except by buttons – but it's a nice fit – and does not leave any red marks behind. We tend to put diapers on a bit tighter than normal I think, but Ethan can get snapped all the way down to the smallest size on this diaper – which makes me concerned for those 15lb. babies trying to use Medium.


The insert for the Charlie Banana diaper needs to be removed before washing, and the location of the removal comes from right in the front. Right where they pee. It is imposible to take the insert out of this diaper without getting your fingers on urine.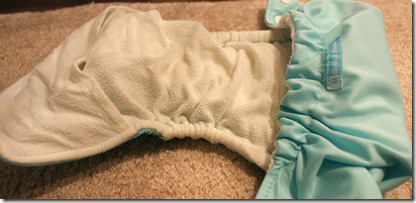 The diapers wash nicely – we've had several poops in this diaper and have no staining or signs of wear. (FYI – the photo above, has urine in it – just in case if you were wondering about why it looked darker)
The inserts dry quickly and can be used right from the dryer for us.


These diapers are pretty cute.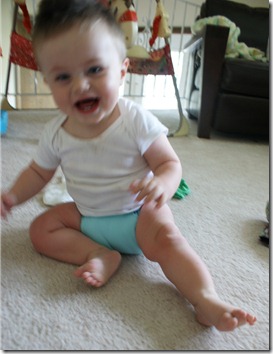 They have a large variety of colors – so you're in luck with variety if you choose to use this system only for your cloth diapering needs!

I'm a little torn on where to sit for the price point.
At a fairly good price per diaper (around $18) and would be a great price in my mind if you weren't needing to purchase more than one size over the course of your child's diapering needs.
Being that you need apx 15 of each size for at least 3 sizes through your child's lifetime – that comes to be a large investment in diapers.
However, the diapers are well made, and will allow your child to wear normal sized clothing throughout their diapering period.
You can also space out your purchasing, so you're not investing all of it all at once – You're able to buy 15 diapers at a time, and then moving up a size later.
Over the course of their diapering, you might expect to spend around $1000 for the Cloth diapers – BUT you would not need to re-buy them for a second child or beyond, or you can swap or sell them to get some money towards your next set of diapers.
Either way, it's still cheaper than buying disposables – which I estimate personally around $1500 per child (I'll share later how I came up with this number.)


Dad likes that he doesn't have to worry about the rise adjustments for this diaper, and it's easy enough to go on.
He doesn't like that there are snaps, and really isn't thrilled about getting his hands in urine every time he pulls the insert out.


I like that this diaper is really well made, and seems to have a great quality of fabric. The durability and the softness outshine most of my other diapers.
I'm not sure if it's a compliment or not, but this diaper is a large notch above the FuzziBunz brand, in softness, quality, and overall functionality. So if you're typically a fan of FuzziBunz – you would probably LOVE Charlie Banana.
Being that I have heavy wetters, I need to use both inserts with the diaper. Therefore, it kind of defeats the purpose of having a trim sized diaper. I would love to have a hemp insert for this diaper so I can keep the diaper trim, and more absorbent.
I personally would love to try their One-Size diapers because I think I could justify the prices of those in my head a little better – even if they are slightly more expensive ($21 ea).
Meanwhile, I'll enjoy my Medium sized diaper until it no longer fits

Who want's to try the perfection in softness?
Giveaway!!
(Open to US and Canada)
This giveaway is for a size SMALL Charlie Banana Limited Edition Diaper that Read's Goodbye Disposable, Hello Cloth!!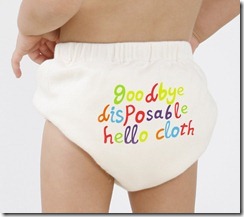 Visit Here for instructions on how to enter
This first entry is Mandatory: Visit www.charliebanana.com and tell me which diaper you would love to add to your stash!
Optional extra entries: (only after the above mandatory entry is completed!) All are worth one entry unless otherwise specified. Leave one comment per entry.
Subscribe to my blog via email (be sure to confirm!) – 2 entries
Like GrinningCheektoCheek on Facebook
Follow my blog publicly via GFC (lower right box)
Follow my blog via networked blogs (lower right box)
if you grabbed my Adventure to cloth Diapering Button before 8/22 and left a comment here telling me that you did so, add 2 entries
Follow @CharlieBanana on Twitter
Follow @GrinCheek2Cheek on Twitter and tweet about this giveaway. (up to 1x/day)
#Win a GoodBye Disposable, Hello Cloth! Charlie Banana Diaper @GrinCheek2Cheek Adventure to #ClothDiapers #giveaway http://www.grinningcheektocheek.com/charlie-banana-sized-diaper-review-and-giveaway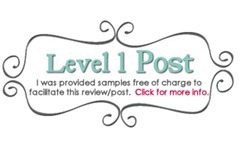 Giveaway ends September 16th, 2011 at 11:59pm. Winner will be drawn by 'andthewinneris…' and will be e-mailed. Winner will have 48 hours to respond or a new winner will be chosen.