While no one in my family needs to eat Gluten Free, we have been working real hard on changing a lot of our eating habits for the better. I continue to hear over and over again about gluten sensitivities – and I have honestly questioned myself as to whether or not I have a gluten sensitivity.  However: I previously could not imagine myself eating gluten free! I love my food: and every time I've been around someone with a gluten intolerance it seems like they are missing out… and I would not want to miss out on good food!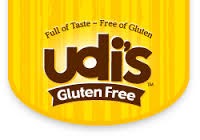 Thankfully, companies like Udi's Gluten Free (The #1 Gluten Free Brand in America!) are serious about gluten intolerance, allergies, and celiac disease. They are combating the stigma that being gluten free is missing out. Honestly I would not have believed until I tried their food.
"Udi's changed the way consumers think about gluten free. We made can'ts, cans. We removed the restrictions that made living gluten free a struggle and made the transition seamless. We created a community for folks to share, build and create. We brought joy."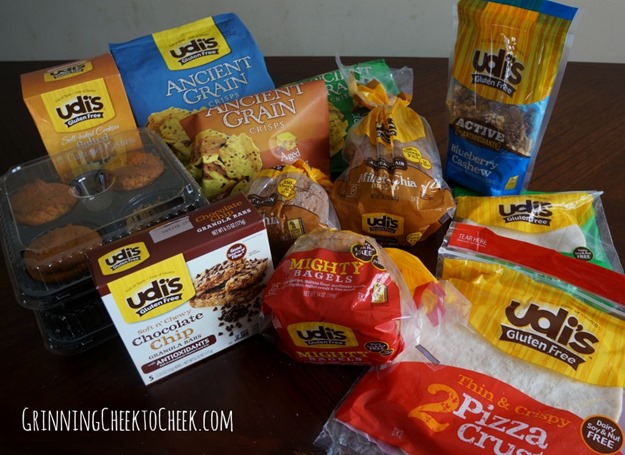 Over the past two weeks, Udi's has sent two packages of some of their best Gluten Free items to my doorstep. Notice the above photo most items are already picked over, since I didn't get to either of the boxes until my family had their pick of treats. The photo is missing the brownies, snickerdoodle cookies, and you wouldn't notice – but there were 8 muffins, and now 3; the box of caramel cookies and granola bars were empty in this photo; and the chips are pretty much gone.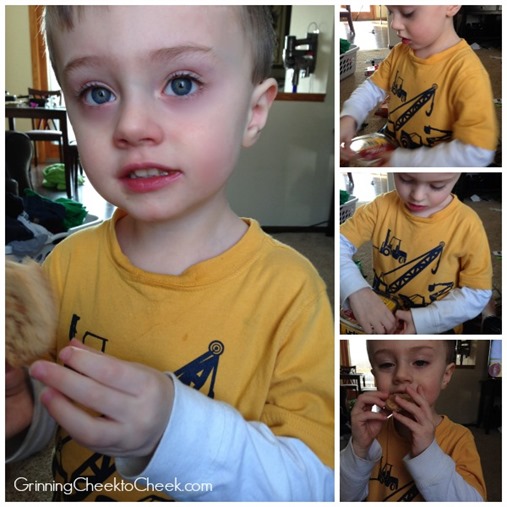 I thought for sure the cookies would taste like cardboard or some off-flavored substitute. So of course, being the great mom I am – I offered them to my kids first.  When they were running around eating them saying how good they were, I finally decided to take a bite.  And oh-my-heavens I fell in love, instantly. I immediately put away the container of cookies (meaning I snuck them into hiding so they could all be MINE!) Of course I shared a few more, I just didn't want them to go away so quickly in the hands of my boys! Of course this is the only picture I got of the actual cookie….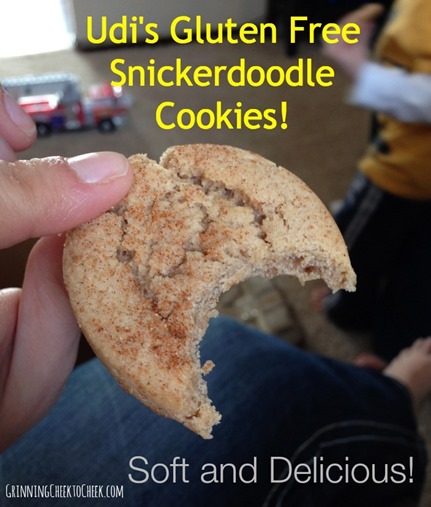 But that wasn't it. We have been substituting several Udi's items with our regular items over the week – and have been thoroughly impressed!  Again, hesitant – I tried the bread.. or.. well I made sure the kids would eat it first, and then I ate it myself.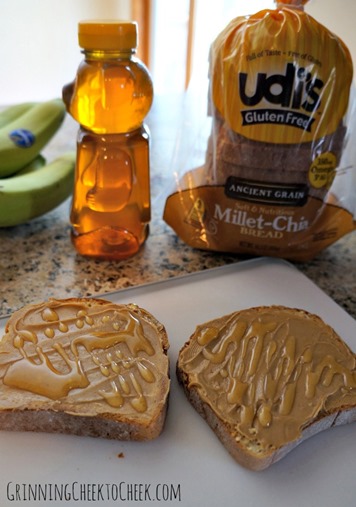 My little Ethan just gobbles up Peanut Butter and Honey Sandwiches. He adores them. He almost never eats the crust of any sandwich – ever – except for this day, I never found a trace of crust!
We have tried just about everything that they have sent us now, with the exception of the pizza crust since I didn't have ingredients on-hand to make pizzas: but next week it's in the plan! My kids haven't noticed a thing!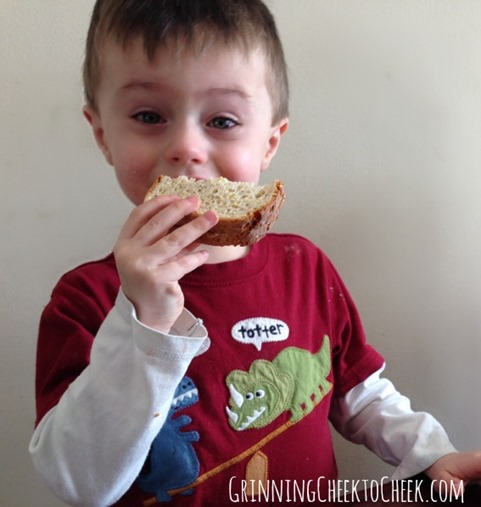 I especially enjoyed the sweets: brownies, cookies, granola bars, muffins: those have been my favorites. I am not extremely fond of the chips, but my husband and children gobbled those right away.  Every thing else has been fantastic! We even made taco's with the tortillas and I completely forgot to photograph them, they went that fast!
I am happy knowing that there are some great options for people with gluten sensitivities – and won't be so scared of what we would be eating if any of my family members also have a sensitivity. Udi's has a plan to be in every area of your local grocery store, as well as working closely with several restaurants – giving them alternatives for those with gluten intolerance. Red Robin is fully on-board with Udi's items: helping those who want a great hamburger to enjoy it with the bun!
You can find Udi's products in national grocery stores. Sometimes it is in the bakery, sometimes
it is in the frozen food section, depending on the product. Check out their website store locator to find which grocery stores are carrying your products.
Do you or someone you know have a gluten intolerance? I'd love to hear your experience!