I almost can't believe that in just a few weeks, we will be changing our clocks back from Daylight Saving Time.  It's been awfully dark lately, and I'm really not looking forward to the darkness to come even earlier. I am looking forward to the kids going to bed an hour earlier, but NOT to them waking an hour earlier…
This year the time change is on November 4 and it also marks the 25th anniversary of the annual Change Your Clock Change Your Battery® program.  Energizer and the International Association of Fire Chiefs (IAFC) are once again working with local fire departments nationwide to raise awareness on the importance of working smoke alarms and carbon monoxide detectors in helping to keep families safe in their homes.
Thirty-eight percent of fatal fire injuries occur in homes with no smoke alarms, while 24 percent occur in homes in which at least one smoke alarm is present but fails to operate, frequently due to dead or missing batteries.
Win IT!!!!
So to get the word out on the reminder to change the batteries and test your alarms: Energizer and the IAFC have sponsored a giveaway of a Family Safety Kit on my site for one lucky reader!
The Family Safety Kit complete with a reusable grocery tote containing: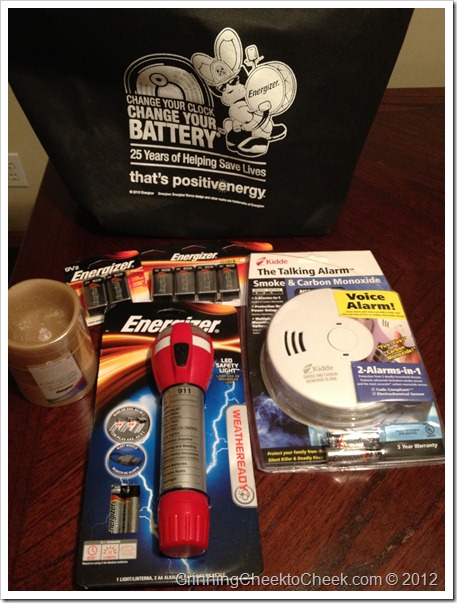 · Two packages of Energizer® MAX® Batteries with Power Seal Technology – Dependable, powerful performance for the devices that help keep your family safe; now hold their charge when stored for up to 10 years
· One Energizer® Flameless Wax Candle – Enjoy the realistic flicker of a scented wax candle without the worry of open flame or hassle of soot and dripping wax
· One Energizer® Weatheready® Safety Light – Waterproof flashlight powered by AA, AAA or C cell batteries; includes safety whistle and imprinted preparedness checklist
·One Kidde Battery-Operated Combination Carbon Monoxide and Smoke Alarm
The total value of the Family Safety Kit is approximately $78 per kit.
To Enter: Follow the instructions on the Rafflecopter form below:
___________________________________________________________________
Enter on Facebook for another chance to WIN!!
Meanwhile, From October 11 through November 4, visit the Energizer Bunny® Facebook page and click on the Fire Safety Info Tab.  Here you will have the chance to enter a sweepstakes to win an additional Family Safety Kit.  Energizer will be giving away one (Larger) Family Safety Kit per day for 25 days.  Contained in the kit, valued at more than $150 is: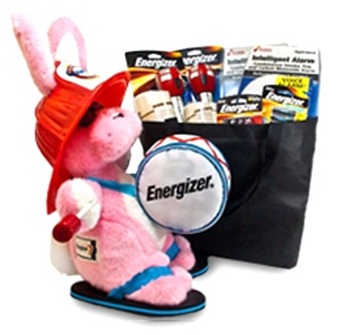 In addition you can find fire safety tips, a home escape plan that you can download and draw your family's home escape plan, as well as a coloring and activity sheet.
The Change Your Clock Change Your Battery®program is just one of the ways Energizer brings to life the company's commitment to making a positive impact in communities across the country. that's positivenergy™   For more information, please visit energizer.com and facebook.com/energizerbunny.
Be sure to come back to GC2C each day for extra entries!!
Rules for GC2C Contest: You do not have to be a blogger to enter/win. An email address is required to enter. The winner will be chosen randomly through Rafflecopter and contacted via email. A reply to the winning email is required within 48 hours before a new winner is chosen. One person entering per household please. US only please.
This giveaway ends at 11:59 PM EST on November 30th, 2012.
I was given a Family Safety Kit in exchange for sharing the news with all of you.  All opinions are 100% my own and are not influenced by compensation.