Summer is busy, and it's inevitable that things are forgotten at home, making even short trips a big hassle. Plus, impromptu stops are part of the fun! So I've put together a Car Kit that I keep in a tub in my trunk all summer long. This way I have everything I could need right on hand, regardless of what happens during an outing or where we decide to stop and play.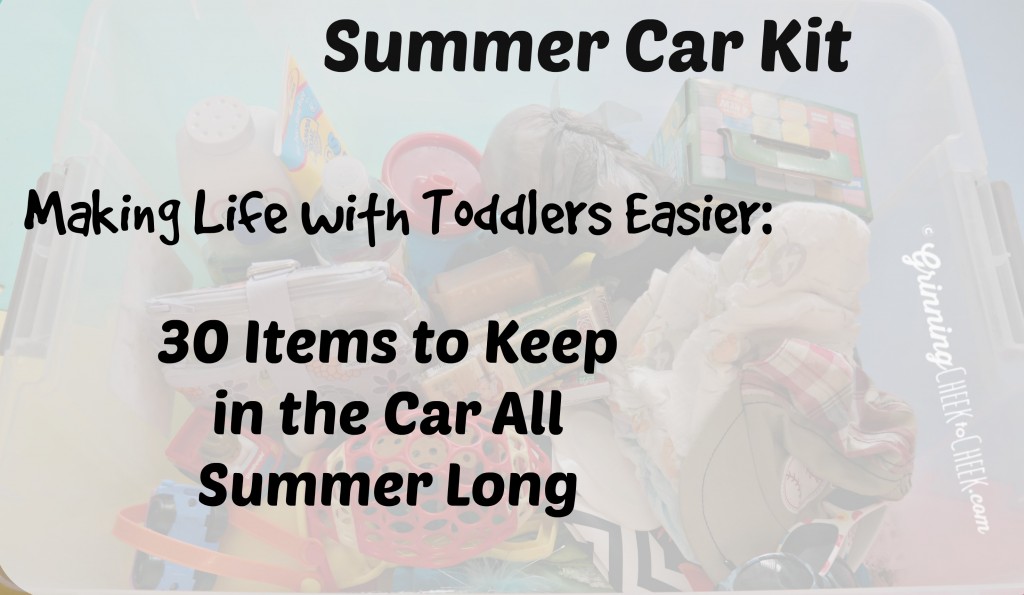 A Tub – Start with a tub, or a tote, or even a cardboard box. Then start filling!
Extra clothes – Potty training. Dirt. Wet slides. Diaper blowouts. Need I say more?
Extra shoes – You wouldn't believe how many times we get halfway down the street and realize the kids don't have shoes on.
Diapers – Kids somehow just know to poop when you don't have fresh diapers handy.
Socks – Sometimes the play place just calls to us. Or the bowling alley.
Hats – For sunny days and bad hair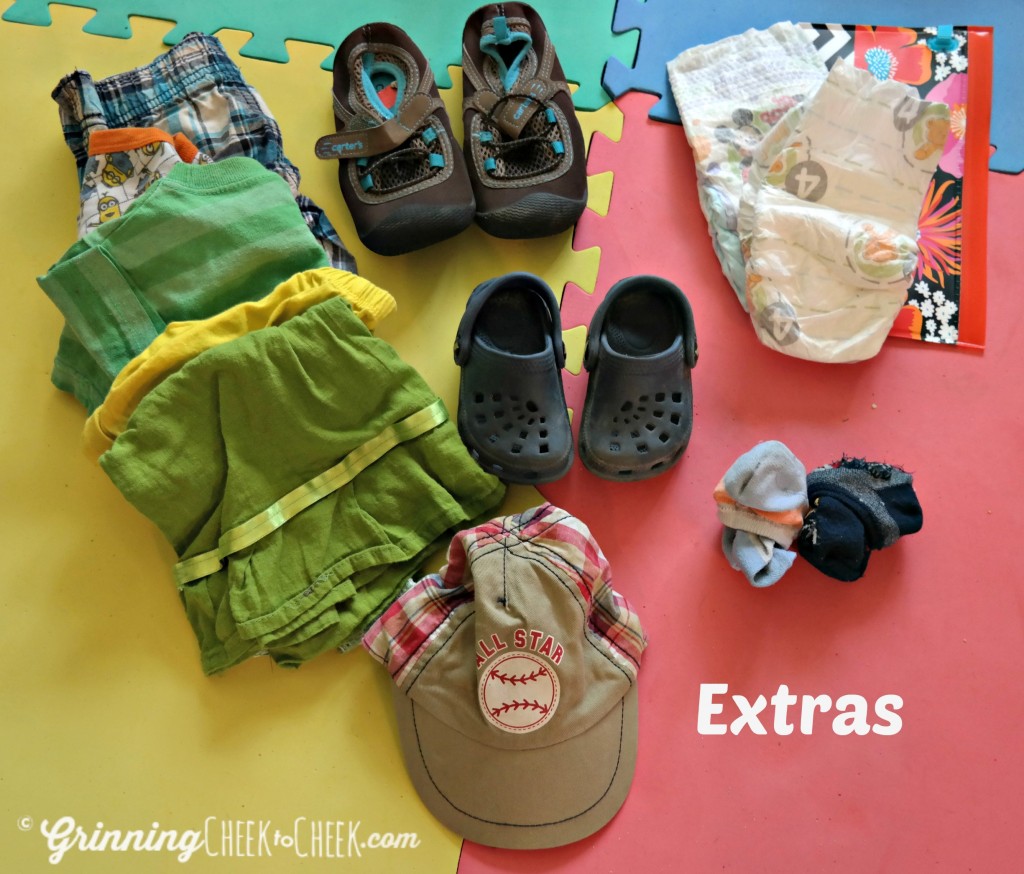 Hair ties/accessories – For you and kids
Sippy cup – Kids also inevitably get thirsty when nothing is handy, especially when out and about
Bottle of water – Some people disagree with keeping water in the car, I'm ok with it, and feel having water handy is more important in case of unexpected delays or being stranded on the side of the road on a hot day.
Flashlight – Handy for night-time stops or looking for that lost shoe under the seat.
Umbrella – You just never know when rain might hit.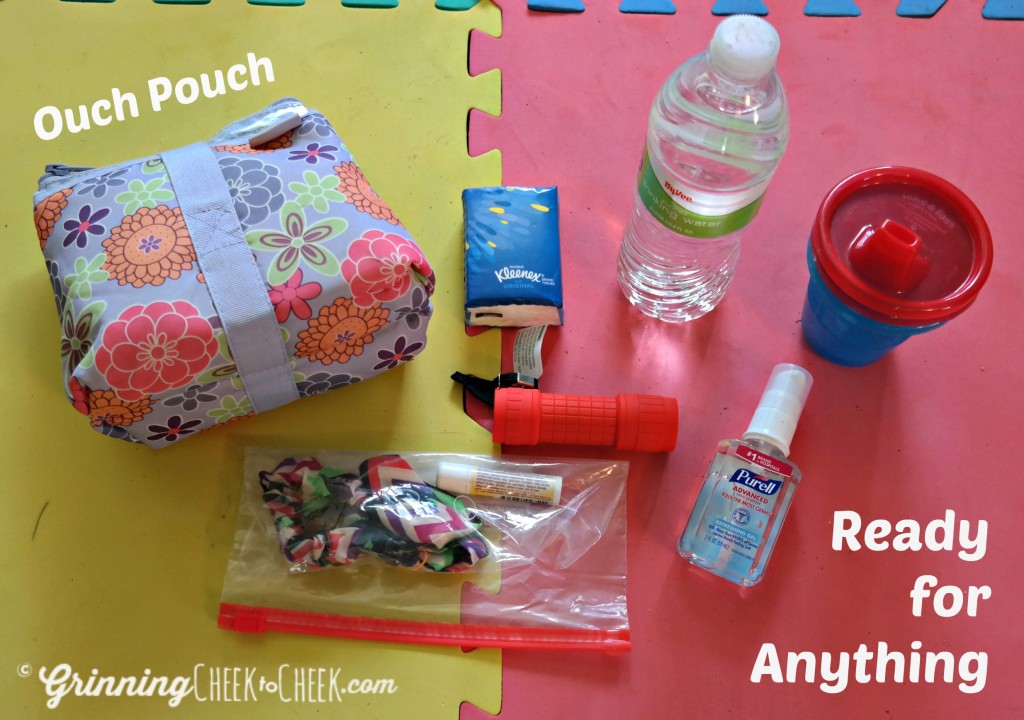 Towel – Be prepared for wet slides, splash pads, sprinklers, and potty accidents
Swimming suit and diaper – For the impromptu stop at a beach or pool
Sunscreen – Because the sun won't stop burning just because I forgot the sunscreen
Aloe – For those moments that the sunscreen comes too late or misses a spot. Also included in the Ouch Pouch.
Sunglasses – Protect those precious eyes
Bucket and shovel – My little ones loves to dig and move things, plus some playgrounds have sand and some dirt piles just pull us in.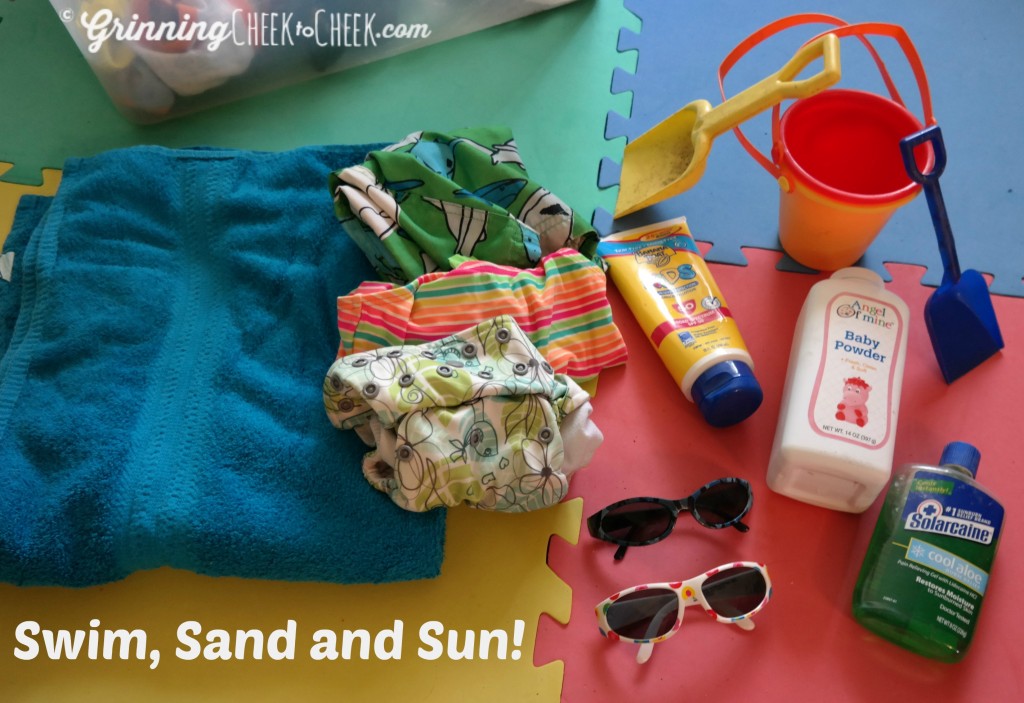 Chalk – Art can happen anywhere
Ball – Fields and slides just beg for balls to play with
Toys with wheels – Just fun, and great for little imaginations
Bubbles – I've never met a toddler that doesn't like bubbles
Notebook and pen – For mom's grocery list, reminders, or little scribbles
Snacks – Because hunger can ruin any outing
Empty bags – Contain stinky diapers, wet pants, and sandy swimsuits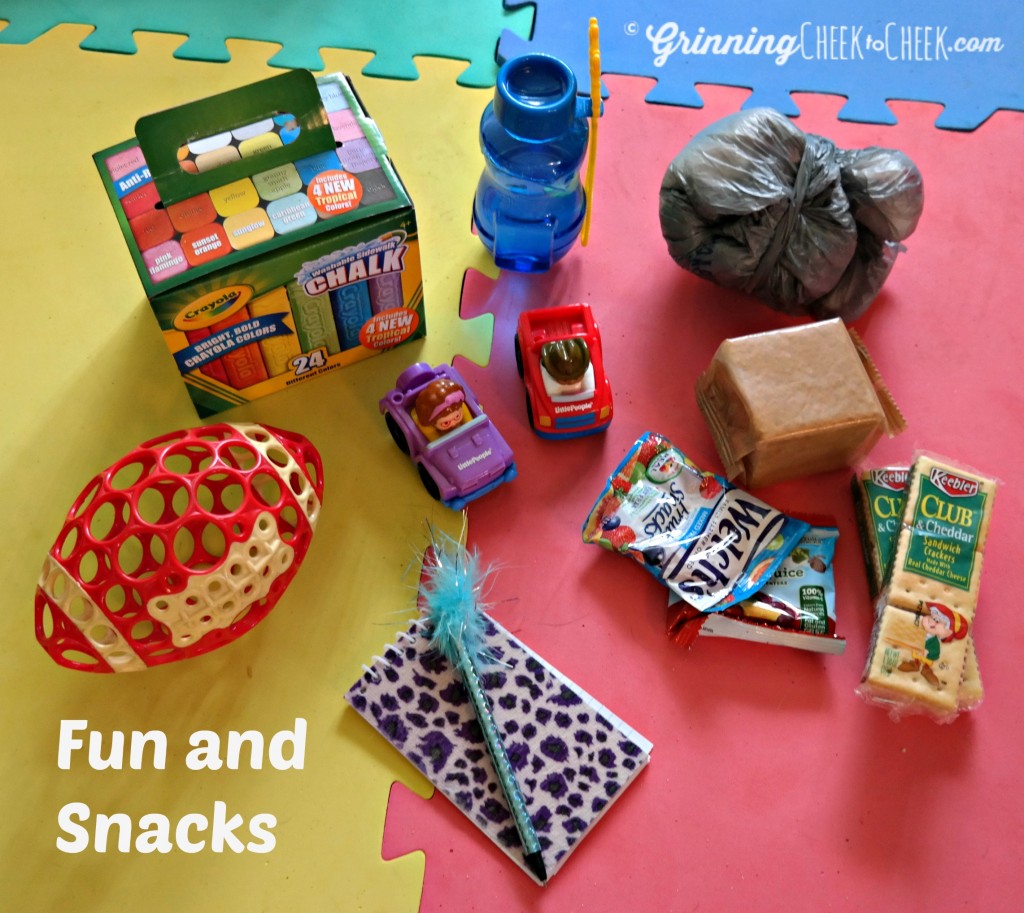 Outside the Box:
Beach Bag
– Our splash pad has a sandbox, so we tote sand toys and towels in a tote bag in the truck as well. It's perfect for toys with extra space to put in snacks, cold drinks, sunscreen,
and more.
Sand Toys – Our selection of beach toys includes many buckets, shovels, little cars and a few shapes. These live in the beach bag and exist simply because we frequent the splash pad/sandbox so often. These don't need to be in everyone's car kit.
Life Jackets
– Once the local pools open, these will live attached to the beach bag so I can't forget them. And so I don't have to carry them to the car with wiggling excited-to-swim children. We LOVE our
Puddle Jumpers
.
Picnic Blanket
– Fantastic for sitting, eating, and playing
on any surface
.
Umbrella Stroller – These fit easily in a trunk and are life-savers for stops at the mall or other locations that involve lots of walking.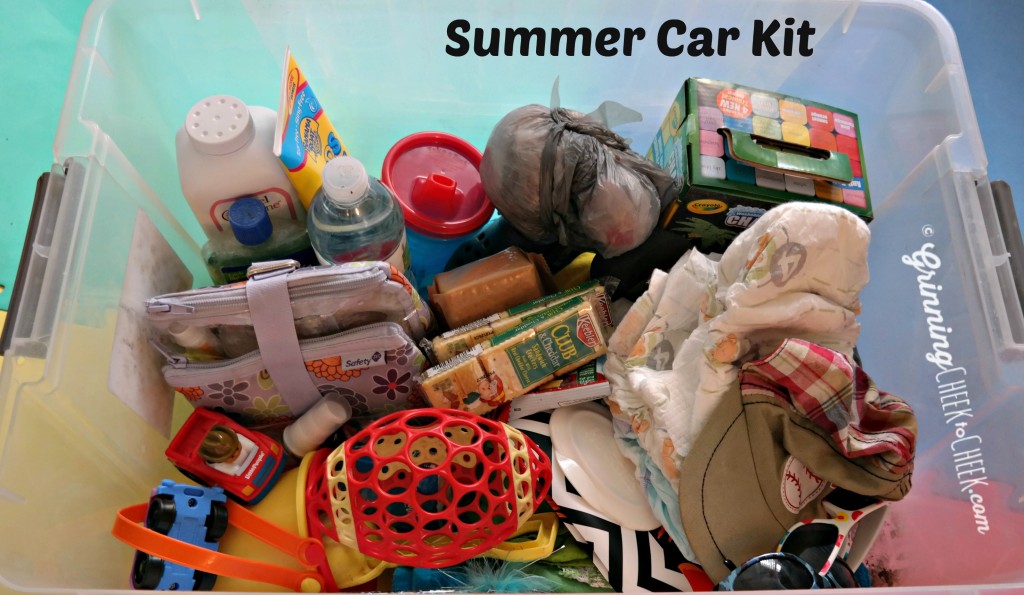 In-car Items
Books – reading is a great car activity
Toys for imagination – little toys and mom's suggestions can spark great imaginary stories on short or long car trips
Sun shades – pop-open shades can set over car seats for great sun protection.
A Few Dollars – Not only for unexpected treat, drink, or gas needs. A little cash in the car also comes in handy for admission fees if you make impromptu pool or paid play area stops.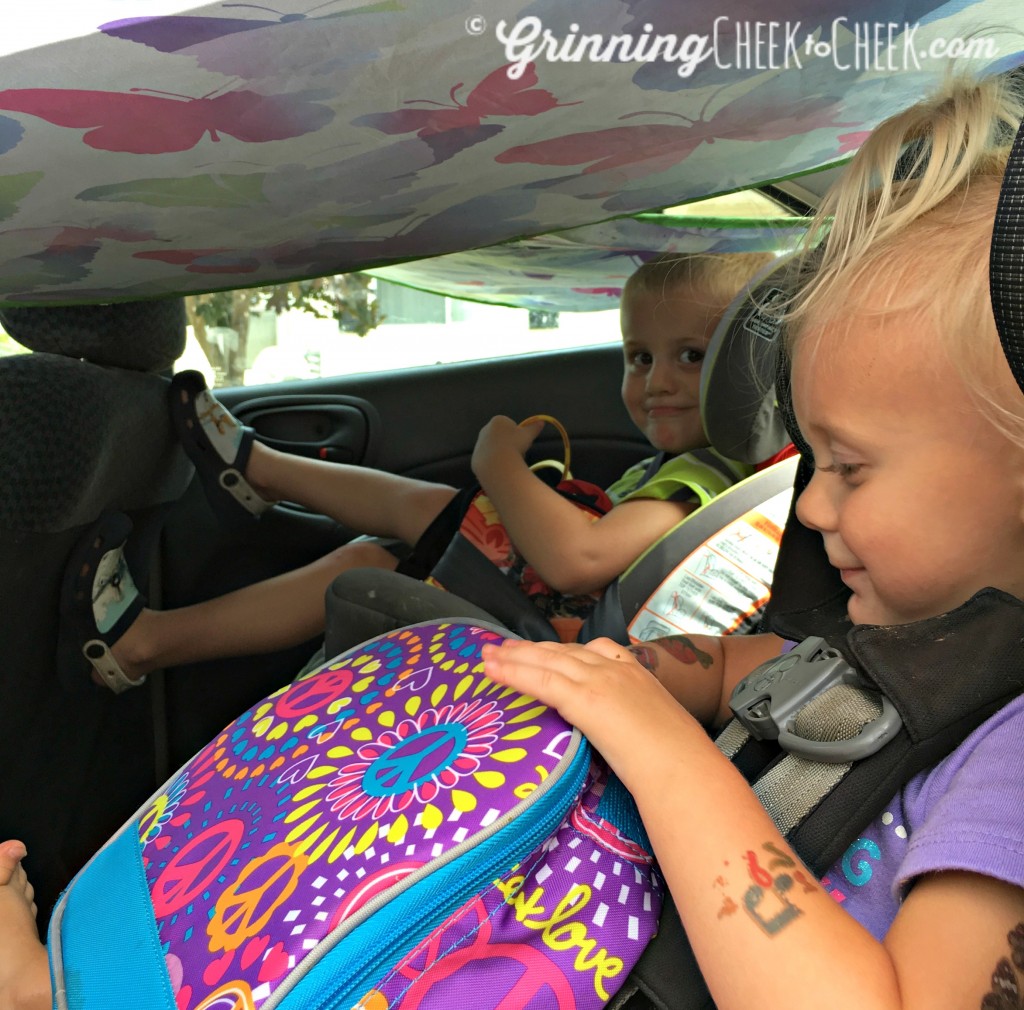 Container – keep it all together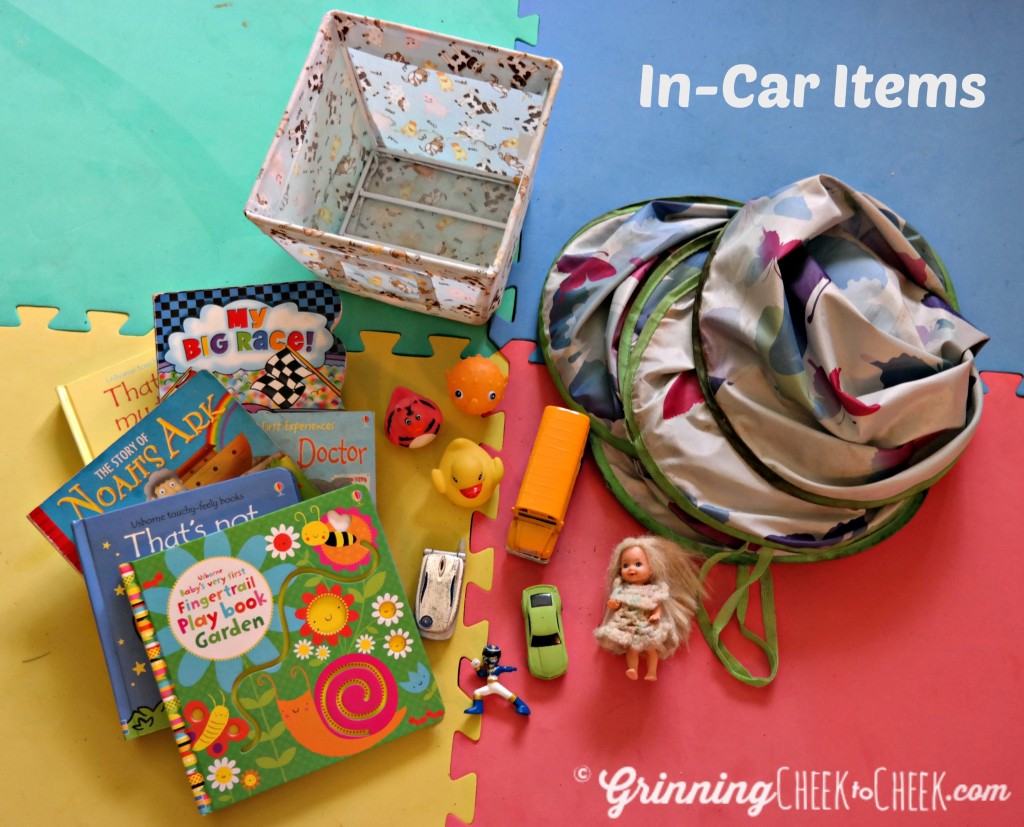 Moms and Dads, anything else you would add?