Disclosure: I have received the product below in exchange for my honest views. All opinions are 100% my own.
These past few months have been absolutely crazy and flying by so quickly for me! I have hardly had the chance to sit down and write out a blog post – let alone sit down and enjoy the sunlight of summer (Which doesn't last so long in Minnesota…). Being on the go so much this summer has really taken a toll on my ability to keep updating you all about my life – so I'm also very thankful that I have my new iPhone to get online and check Facebook, update Instagram and check and send tweets out. So hopefully you are catching up with me somewhere on those programs!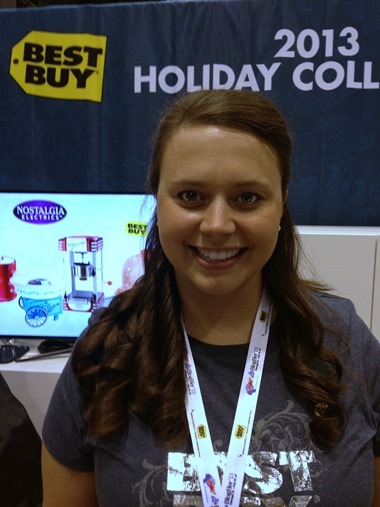 I am frequently running out of battery life on my phone – especially when I'm out and about; because I'm always checking something (like the never-ending email…). So when I'm on the go I most definitely need a back-up battery source.  While in Pensacola this past May, I had so many times during my day where my phone just didn't want to keep up with all the tweeting that I wanted to do. Thankfully, a friend there had an IOGEAR Charger that she pulled out of her purse and was able to hook myself and another friend up to – getting both of us a re-charge in very little time.  I was super impressed, and I knew with my busy summer, I would have to get one of these for myself!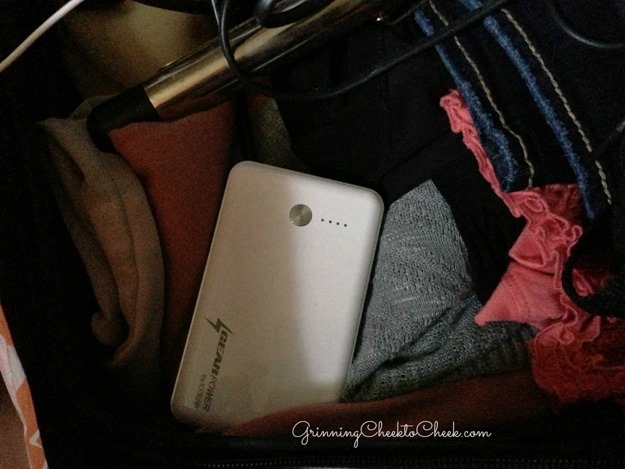 I have tried several other backup-sources – like the Mophie – which I purchased just before BlogHer in New York last year.  It worked fine at charging my phone up and giving me a few extra hours of talk time; but I certainly couldn't hold a conversation on my phone. I could hear myself talking in my own ear (with a delay) every time I used that thing. My family also said that I sounded distorted. So as soon as I got home, I brought the Mophie back to the store.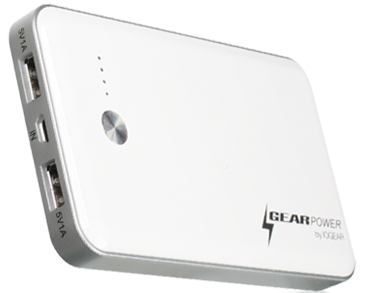 The IOGEAR is so much easier to use than the Mophie, too. Simply charge up the 7000mAH power pack overnight before you leave on vacation or day-trip.  Then be sure to pack it as well as your devices power cord into your purse or carry-on so you can access it when you start getting low on battery life.  It's just like a wall charger – except you're not connected to the wall.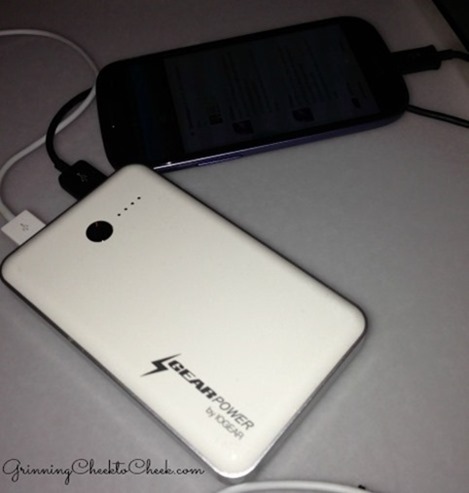 I am able to charge up my iPhone 5 in about 2 hours, and at BlogHer last month, I was able to get myself and a friend two full charges before the IOGEAR needed re-charging itself. (That's four full charges!) The best part was that we were still able to use our phones while we were charging.
And even better? I left Chicago with the IOGEAR fully charged – and then a few weeks later while enjoying swimming lessons with my kids (which they had at different times…) our iPod Touch lost its charge, and I thankfully had the IOGEAR with me – so I could just charge it back up while entertaining Ethan during Andrew's lessons – and then Andrew was able to use it during Ethans lessons.  *whew* disaster averted!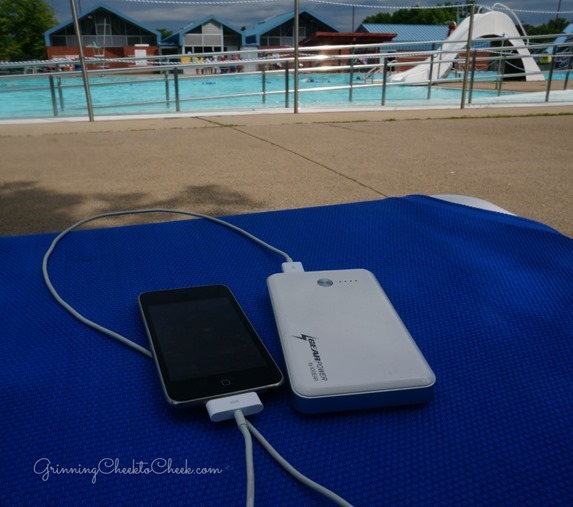 The IOGEAR can charge anything that has a USB charging point. Simply bring along your charging cable for what you're thinking may need to be charged – and you're good to go! – and yes, it even charges the iPad with a 2.1 A output.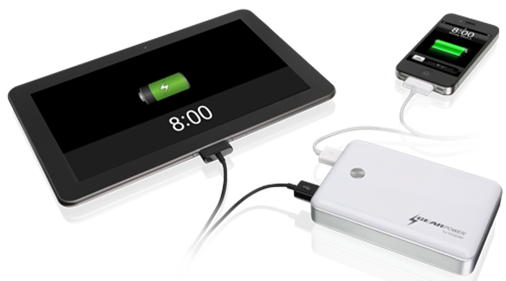 The IOGEAR can be purchased on the IOGEAR Website– in several options of mAH sizes. I felt like the 7000mAH is perfect for what I need it for, which runs about at about $60.