Micah loves his Bumbo products! When he was a newborn, I thought Bumbo was just one thing: a Bumbo floor seat. In reality, Bumbo has so many more quality products for babies and children! Bumbo sent me a stepping stool and booster seat to review and run a giveaway for all of you! Bumbo's booster seat and stool are great products that would be good for any house with young children.
Please note: never leave baby in a Bumbo chair (or any chair) on top of any surface unattended! Use common sense!
Bumbo Step Stool
The Bumbo step stool is a cute little stool for kids to reach anything that their short little arms can't normally get to. Whether that be the sink (so they can help wash dishes, or just their hands), getting up on the toilet, or looking out a window, little kids often needs a little step up to get there. This Bumbo step stool is perfect for that. With a rubber bottom, it won't slip (at all, Micah kept pushing at it and trying to move it: with any weight on top of it, it doesn't move).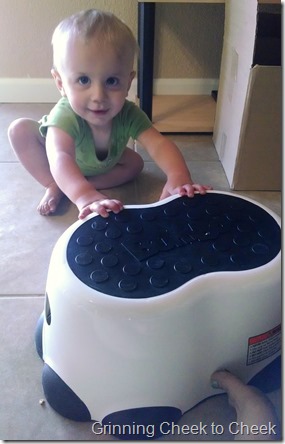 Plus, it's super light so a child can easily pick it up by it's side hole-handles and move it wherever he needs it. The stool only holds up to 110 lbs, so I can't use it, but Micah will definitely put it to good use in the coming years.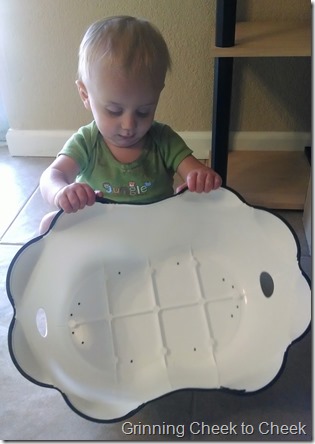 Bumbo Booster Seat
Micah definitely needs a boost up when it comes to eating at the table. I'm big on family meals (eating together is super important!), but we don't own a high chair, we've been using booster seats. The Bumbo booster seat is fantastic for older kids that sit nicely and just need an extra boost so they can be at the right height.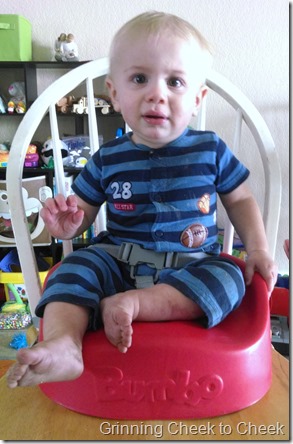 The Bumbo booster seat is lightweight for easy portability, and safely built with two chair straps and solid connections. It's short enough to slide under the table to the chair isn't sticking out to stub toes on. And the smooth colorful surface is easy to clean.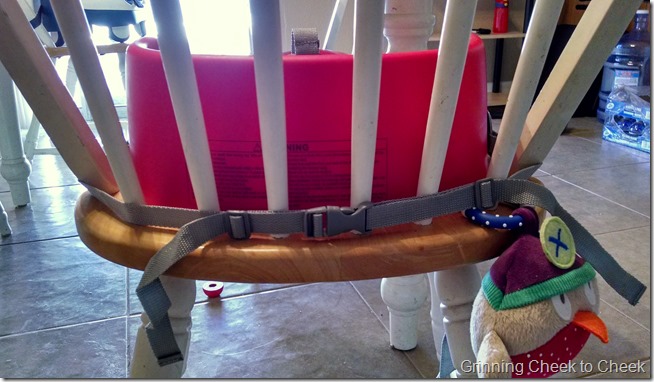 Plus, it has a 3-point harness to keep fidgeting little children at the table until dinner is over. The Bumbo booster seat isn't so great for my 11 month old little man (he's too little for something so open yet), but it's way better than nothing and will be spectacular once he is too big for his chair-type boosters and just needs a little more height.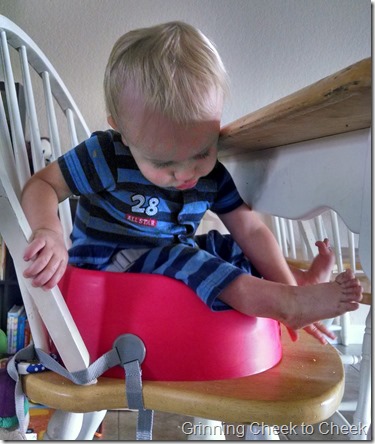 The stool sells for $17.99 and the booster seat is $49.99. Check out Bumbo online and on Facebook!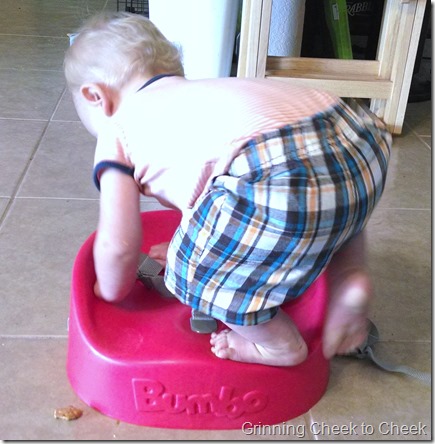 #Bumbo Cares
One thing I was really excited to find out is that Bumbo has a non-profit organization called Bumbo Cares that helps underprivileged and special needs children in Pretoria, South Africa. So far they are celebrating $10 million in charitable giving! It's great to see large, solid companies like Bumbo giving back to people who truly need it! Learn more at www.BumboUSA.com/BumboCares.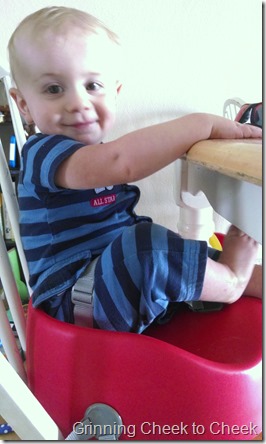 Bumbo Giveaway!
Win a Bumbo Stool or Bumbo Booster Seat for your family! (one winner will be chosen for each)
How to enter: Leave a comment about what your family needs a little boost or step up for!
Then: Fill out the form and complete other options for more chances to win! Do it again every day for more and more chances!
Rules: You do not have to be a blogger to enter/win. An email address is required to enter. The winner will be chosen randomly through Rafflecopter and contacted via the email registered in Rafflecopter. A reply to the winning email is required within 48 hours before a new winner is chosen. One person entering per household please. US only please.
This giveaway ends at 11:59 PM EST on December 9th, 2013