Last year one of my nieces got to take a very special trip to build-a-bear – and made her very own special animal.  When she came home, my other (younger) niece was SO sad that she didn't have her very own special animal to play with.
So for Christmas last year, my mom took my niece and Andrew to Build-A-Bear and they both were able to create their own special animal.
Both kids still play with their animals. Andrew sleeps with his puppy.
This year, I had the great opportunity of working with Build-A-Bear to share with you how fun and special it is to take your child to the store and have them pick out their own animal and give them some love.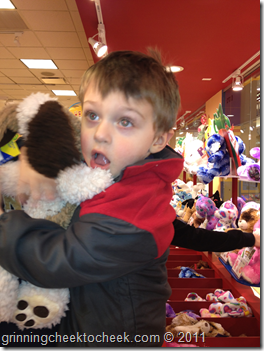 Since Andrew already has a special animal- we decided to make one for Ethan for Christmas.  Andrew helped pick one out – and thought it would be best that Ethan has a puppy too!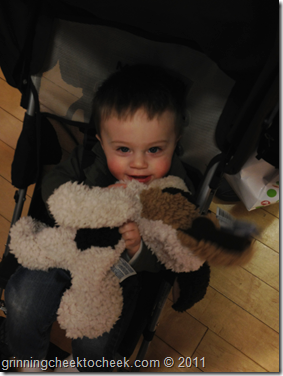 While daddy waited with Ethan in line – Andrew and I checked out all the outfit options for his puppy.  Andrew *really* wanted puppy to have a motorcycle…
We picked out a 'bark' to put into his paw.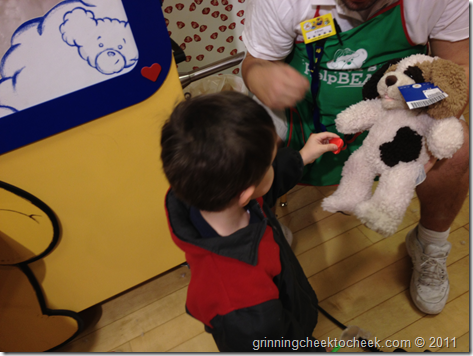 And we brought it to the machine and got the puppy stuffed – Did the special dance with the puppy's heart – Gave the heart a kiss and put it inside the puppy.
Then got him dressed.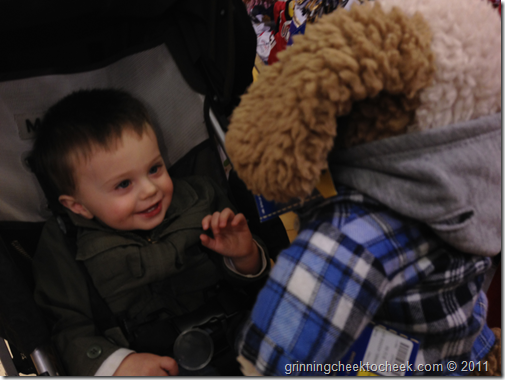 Ethan loves his puppy – but doesn't even realize yet that he won't see it again until Christmas!!
He's such a cuddly boy though – he loves his stuffed animals – I'm sure he'll love this puppy forever too – especially knowing that Andrew helped to make him.
Want to bring your kids to Build A Bear for their own special experience?
Win It!!!!!!!!
Build a Bear is offering One Lucky Reader the chance to win a $10 Gift Card to their store.  I know it won't pay for a full animal – but it will most certainly help!
Mandatory Entry: Please leave a comment telling me who you would like to take to Build-A-Bear with you!  Then mark 'I Did It!' on the rafflecopter.