Spa Sonic provided me with a home spa to share with you, along with the inside scoop on their upcoming Black Friday deals. Opinions are 100% my own. And my opinion: it's a good way to cleanse and exfoliate without paying more money than I have to go to the spa. I've never been to the spa, and with the Spa Sonic
, I don't think I'll ever have to go.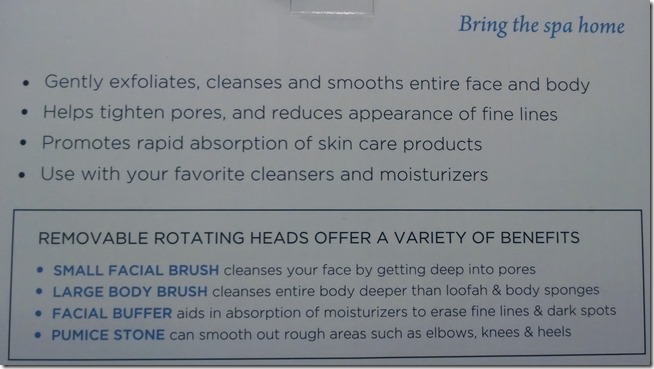 Spa Sonic is Easy to Use
The Spa Sonic is a complete package: batteries included! It has two facial brushes, one super soft smoother sponge, a pumice, and a big body washing brush. They are easily washable (clean them after they clean me). They pop on and off of the handle really easily so it's no problem to switch from one to another. Of course, it's waterproof so you can use it anywhere. And the on/off button is easy to operate. All in all, the Spa Sonic works great. It does leave my skin feeling really dry, so I need to find a better moisturizing wash or lotion up after using it.
Spa Sonic Black Friday
Currently, Spa Sonic
is on sale at Bestbuy.com for $69 but will price match to Target for $45! Definitely cheaper than a trip to the spa. And faster, so you can spend your day off relaxing or doing other tasks rather than waiting at the spa. And it's available in blue, purple, and pink! Check it out online for more information.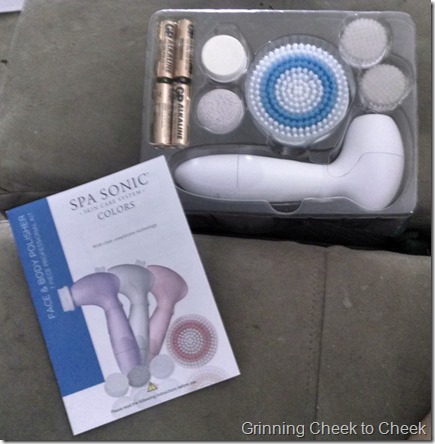 Just for fun: Other (clean) Uses for the Spa Sonic!
Peter calls it a beard massager.
Micah loves playing with it, he thinks it's hilarious and good fun.
When you threaten your kids that they'll have to clean with a toothbrush, the Spa Sonic might be a bit more effective, though not as threatening.
Might make some pretty fun baby hairstyles!
Definitely a good centerpiece for breaking the ice at a young adults Bible study….