What's one thing that ALL kids love to play with??  Balls!  Bright Starts rolled out a new line of products that focus around balls, and they sure hit this one out of the park!  Pun's Fully Intended

Our family received the Pop & Roll Roadster to play around with – and we have had so much fun with it!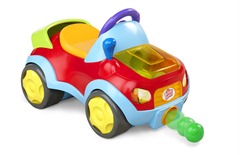 The Roadster is still a teeny bit too complicated for Ethan to get to move on his own, but he just started crawling within the last month, so he's a little bit less coordinated than most kids his age – He is, however a great communicator – I guess its either one or the other!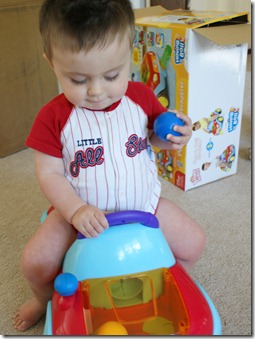 But He loves to play with the balls and push the handle to let the balls drop out.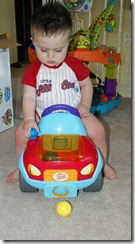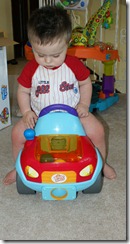 When the Roadster is being moved, the inside spins around making the balls POP and fall to the dropping area – so sometimes when Ethan is playing with it, we have to move it around a bit to get the ball to fall to the front.  But he loves it when the balls pop out and he loves to pull the lever and push the buttons to make the noises.
The noises this car makes are great as well – They're not terribly loud or annoying as some toys can get, but they're fun – and enticing!
I'm really excited for the time where Ethan can figure out the leg movements to start pushing this car around the house. I'm sure then we'll have a whole other set of problems along with this, but its oh-so-fun when they figure that out!
Andrew *loves* the roadster (as he does all things with wheels) – The day he woke up and found it put together on the middle of the floor – he nearly attacked it trying to figure out all the details that he could of how to get it to work (he likes to figure things out)
Andrew will spend several minutes running the Roadster back and forth through the house, and get all the balls he can find and stuff them inside.  Yes, even his cars go inside the opening – but it's ok, because the opening is large enough for a small hand to fit through, so nothing gets truly stuck!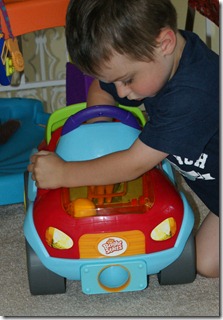 We love the Roadster and think it's a great learning toys for all little kids – even almost 3 year olds – and at such a great price!  This would make for a perfect gift for a One or Two year old for Birthday or whenever!
You can find the Bright Starts Pop & Roll Roadster at Toys-R-Us in store and online!
Bright Starts also has a great facebook fan page that they would like you all to become part of – Click on over and hit 'Like'!