I'm so excited once again to bring you another heads up about my boys' favorite show – Chugginginton!  Both boys love watching Chuggington and Andrew often sings the songs through the day and uses their expressions… like 'Oh Bumpers!'
Just in time for a great gift for your Trainee's this Valentine's Day – Chuggington is releasing their new DVD – Brewster's Little Helper!
It's the gift that is sweeter than any candy!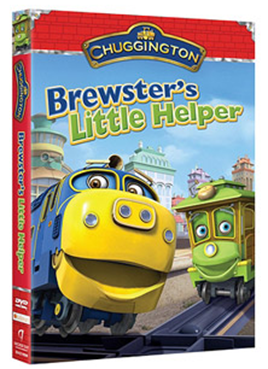 We love having the DVD's for Chuggington so my little trainee can enjoy the Chuggington episodes on-the-go or while Mom and Dad are interested in watching something a little more grown-up…
Six great episodes are included on the DVD and will keep your little Chugger happy and entertained while learning awesome life lessons as well!
"Brewster's Little Helper" will have preschoolers honking their horns alongside their favorite trainees, Wilson, Brewster and Koko, through six energetic episodes.  In the title episode, Zephie is determined to prove that she can pull her weight.  After overhearing Brewster's tasks for the day, she tries to take care of them all, but winds up chugging headlong into trouble.  When Zephie is unable to complete the chores correctly, she realizes she still has some growing up to do.  And, with a little help from Brewster, everything gets back on track.
Each of the additional episodes – Koko Takes Charge, Brewster Knows Best, Zephie's Zoomaround, Nurse Wilson and Wilson And The Paint Wagon – are filled with loads of fun and coupled with positive lessons for preschoolers such as patience, teamwork, responsibility, friendship, creative thinking and more.
This DVD will be a great gift for my little Trainee for Valentine's Day – along with some fun candies that I got for him!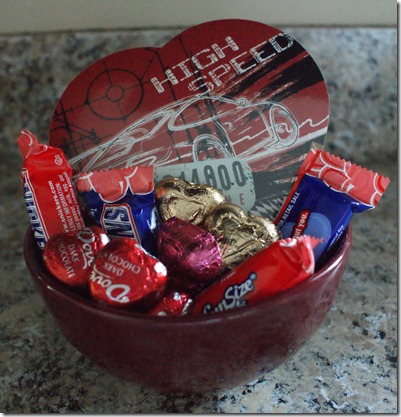 You can purchase the DVD wherever DVD's are typically sold starting on Valentine's Day (Tuesday Feb. 14th!).
I'm also hosting a giveaway for this DVD for your little Trainee! In case if you don't have a chance to get to the store to buy this on Valentine's Day – you MIGHT just have the chance to win it here!
Win IT!!!
One lucky reader will win Chugginton: Brewster's Little Helper on DVD!
Mandatory Entry:  Leave a comment Telling me something that you love about Chuggington! Then Fill out the RaffleCopter!