Earlier this year, I had the amazing opportunity to see the movie 'Brave' in theaters in 3-D.  From what I had seen in the previews it was the next 'princess' movie, but told in a much different way.  I decided to take my 5 year old niece along with me, since I figured my boys wouldn't appreciate it as much as she would.
I was a little concerned that it was too scary for her, because of some of the dramatic elements to it.  I know that my 3 year old would have been crying, as there were several very scary parts – and he gets INSIDE the movie when he's watching.  But my niece LovED it – And I thought it was pretty good, too!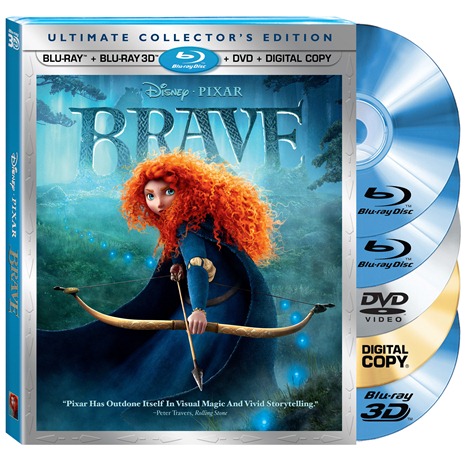 So when I had the opportunity to review it in so many forms – I was really excited. It will make an awesome gift for her this Christmas!
The best part about this multi-disk pack is that right now, they have a DVD player.  But I know my brother has been eyeing a Blu-ray player, so she'll be able to watch it on Blu-ray as well.  My brother also has a smart phone and mini-laptop, where he will be able to load the digital copy onto, and she can watch while they're on the go. And maybe someday down the line, he'll wind up with a 3D TV, and be able to enjoy the movie in 3D without having to re-purchase the DVD! 
I think it's brilliant, and I've very specifically been looking for these options when I'm investing in movies – why not spend a few extra dollars now – so I can have the movie with me on-the-go, or when I upgrade my home electronics!
The stunning Blu-ray release of "Brave" includes hours of all-new bonus material, extraordinary behind the scenes features, extended and deleted scenes, a mysterious and exciting, new short film, 'The Legend of Mor'du," and much more. 
The Brave Ultimate Collectors Edition 5-Disk Combo Pack
will be available for purchase on November 13th at Best Buy and several other retailers, for approximately $34.99. (Although in this Best Buy affiliate link just above this sentence, you can pre-order Brave for only $27.99!)
To stay up-to-date with the happenings of the movie, 'Brave' Check them out online at http://disney.go.com/brave/#/home-video/.
Win It!!!!
One Lucky GC2C Reader will Win a Brave Prize Pack including the Brave Ultimate Collectors Edition 5-Disk Combo Pack, the Poster, Tattoos, and a Wig.
How to Enter:
Mandatory Entry: Leave a relevant comment on this post.
Then: Fill out the rafflecopter form.
Be sure to come back each day for extra entries!!
Rules: You do not have to be a blogger to enter/win. An email address is required to enter. The winner will be chosen randomly through Rafflecopter and contacted via email. A reply to the winning email is required within 48 hours before a new winner is chosen. One person entering per household please. US only please.
This giveaway ends at 11:59 PM EST on December 7th, 2012.