Lately my son has been oh-so-obsessive about Transformers Rescue Bots.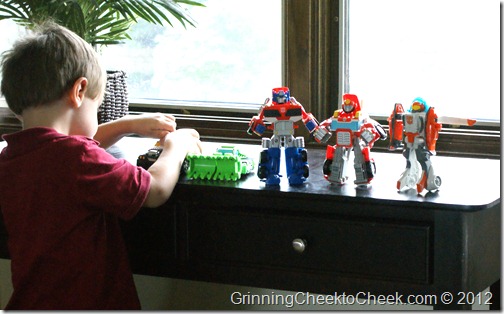 I'm not sure if you've ever heard of them – but they're pretty neat.  They're similar to transformers, but WAY less scary.
He got the Optimus Prime fire station for Christmas, and has been hooked ever since!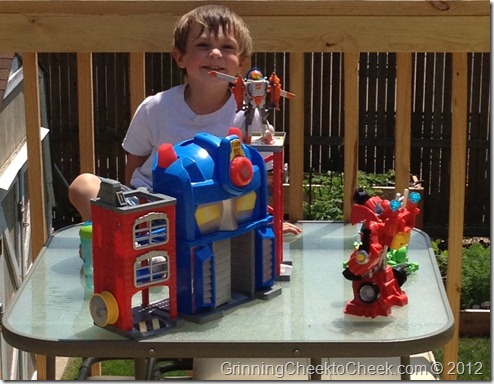 Andrew can spend most of his day playing with these toys.
It's fun to see his imagination at work.
I've come to realize, though, that with the obsession for Transformers, also comes the beginning of the rest of the obsessions with other 'Boy' Things – like Legos, Superman, and Batman. Oh yeah, and video games.  Ugh.
We were walking through Target the other day and he saw the Lego Batman 2 game and sat staring at all the characters of it.  He's seen parts of the batman animated series on The Hub (television channel), but I didn't think he was interested because to him – Batman is too scary.
Thank goodness that he's a sensitive kid and doesn't appreciate scary stuff yet – it pretty much keeps his interests of TV shows and toys to a minimum, which is fine by me!
He does appreciate the Rescue bots shows though (also on The Hub channel) – even though they can have some slightly intense moments, they're still not scary.
He acts out the scenes with his toys, which is really cute to watch.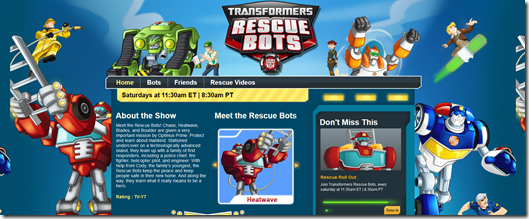 I'm not sure where bumblebee comes in to the Rescue Bots – but they've got a bumblebee car and his garage as part of the toy series, but he is never mentioned in the shows or book.
Either way though, he had been dreaming and talking about Bumblebees Garage for almost 3 months now – and he FINALLY earned enough stickers to go buy it.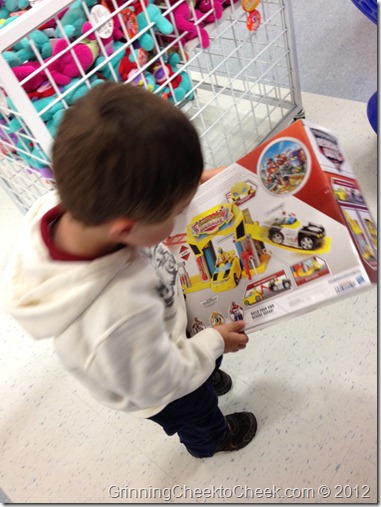 So honestly, if you've got toddler boys – you should check these guys out– they're fun for toddlers because they can easily be transformed.  And they're pretty inexpensive (like $10/bot).  Some of them come with books – and they entertain for hours on end.
Soo…. How long does this adventure-boy stage last??  I have a feeling I know the answers to this – but I just want them to stay in the small and innocent phase… Its going too fast

Are your boys interested in any specific shows or characters and toys?