Welcome to the Blooming Blog iPad2 Giveaway!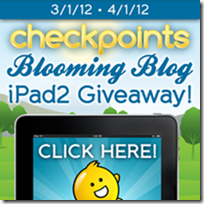 Hello Everyone and welcome! I'm Amy –

I'm the blogger (and mom of two boys) behind Grinning Cheek to Cheek!

I blog here about products that I've tried, I often host giveaways to go along with them – and I also blog a lot about my family

and what's going on in our lives!

You can check out more about me on my About Me page!  I love to chat – so send me a note here or on Facebook or twitter, and/or Leave a Comment
Myself as well as 49 other bloggers and Checkpoints have teamed up to bring you a giveaway for the iPad2!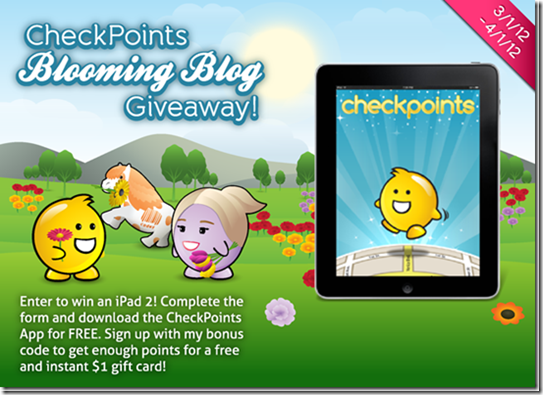 Checkpoints is an App that Pays you Back!
Download the Checkpoints App on your iPhone or Android device, and use it while you're shopping to earn points.  Points give you rewards like Gift Certificates, Airline miles, and Electronics!
*Freebie Alert*
Here's a special Promo Code for my readers:  When you register your account with Checkpoints use the code: cheek2cheek and you will automatically get enough checkpoints for a free $1.00 gift card or $1.00 to give to a charitable donation!
Then start Shopping to earn more points!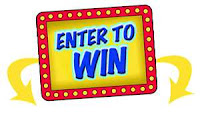 Enter to win an iPad2 using the Rafflecopter Form Below.
Giveaway Ends 4/1/12 @8pm EST
There are 50 participating blogs, but you only need to enter the giveaway on ONE blog!