Disclosure: I was hired to share this great news of Coupons.com Black Friday Coupons with all of you. The giveaway is sponsored by Coupons.com. All opinions are 100% my own.
Or new rental house is behind Target. Not joking, literally, we can walk out our back door and look at the back wall of target. When we signed the rental the realtor said, "you can just jump the wall and go right in line on Black Friday!" Haha, not a bad idea! Especially since I just learned that Coupons.com has Black Friday Coupons!  I hadn't really thought about using coupons on top of the big deals.  It really got me thinking, what do we want on Black Friday?!?
My Little Black Friday Rant
So, I have to insert a little rant about Black Friday, because what always comes to mind before what I want is that Thanksgiving comes first! Thanksgiving is Thursday, Black Friday is Friday. Period.
KMart is opening at 6am on Thursday this year, and that's just ridiculous! People should absolutely not go shopping instead of spending time celebrating with family and being thankful, AND this takes all those employees (literally all, stores need everyone they employ there to handle the people) away from their families. Stores should not open on Thursday, the end.
Just a reminder: All opinions are 100% my own. Our Black Friday Wish List
I would love to score Micah some grow-with-me toys that he could keep using as he gets older, but we really don't have enough room for more toys. We also really need a water cooler/dispenser since the water here tastes horrible. And cold tap water doesn't exist.  Peter says he wants "Tools. Any tools I don't already have. You can never have too many tools!" Otherwise, I just like to watch for the great little things, like cheap DVDs, great deals on clothes, and incredible prices on small electronics.
Black Friday Coupons from Coupons.com
Coupons.com is helping to make the Black Friday chaos more fun! With some awesome Black Friday Coupons codes for lots of stores, they are definitely an invaluable partner for your wish list! Get a chance to win big by entering the Black Friday Sweepstakes hosted on Coupons.com and see how you can win one of the 10 most popular, must-have gifts this holiday season.

And enter our multi-blog giveaway below!
$100 Kohls e-Gift Card Giveaway!
One Lucky Person will WIN a $100 Kohl's e-Gift Card!
This is a combined effort with other blogs, so there are lots of options for more entries!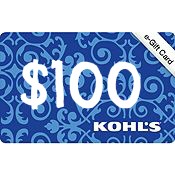 Remember to come back each day for more chances!
Rules: You do not have to be a blogger to enter/win. An email address is required to enter. The winner will be chosen randomly through Rafflecopter and contacted via the email registered in Rafflecopter. A reply to the winning email is required within 48 hours before a new winner is chosen. One person entering per household please. US only please.
This giveaway ends at 11:59 PM EST on November 29th, 2013