Spring Home Makeover with Sleepys
Typically our bedroom has the place where we stash everything that needs to get out of the main area on a minutes notice.  So it's often crowded and messy, and most certainly not pretty, wispy or romantic like I have always envisioned our master bedroom to be!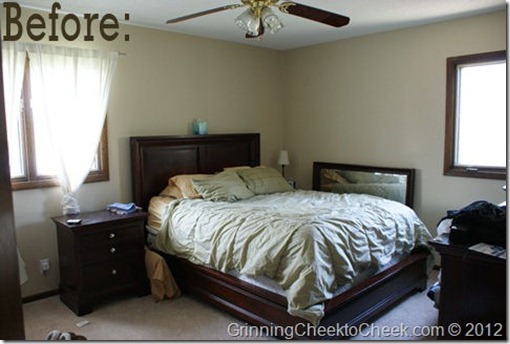 When we moved into this house, our first priorities of decorations were focused on the main areas, as well as the kids' rooms.  Our room was no where near the top list of priorities for us.  But as we thought more about it, our room really was an eyesore, and not a place that we enjoyed being in any longer than necessary.
So with the help of Sleepys – This weekend my husband and I finally got a grip on our bedroom, or mainly our bed.  I wrote a little about the before-progress here: Bedroom Overhaul in Progress.
Sleepys provided us with three main items for our bedroom:
Pillows:
One main problem in our room is pillows.  My husband and I have such different tastes when it comes to pillows that it's almost impossible for us.  We literally have to color-coordinate our pillows to determine which belongs to whom.  SO: in the photo above, the green ones are his and the cream colored ones are mine.
Sleepys sent over their comfy Serenity Gel Pillow 2 Pack.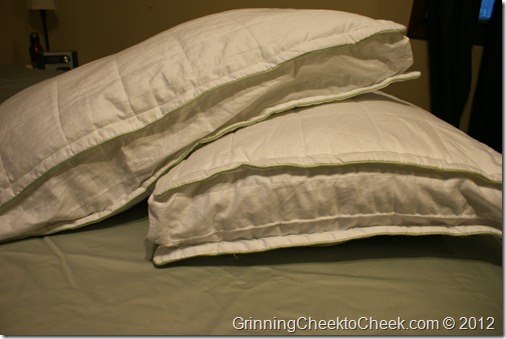 These hypoallergenic pillows offers excellent support for stomach, back, and side sleepers.
The Serenity Gel Pillow 2 Pack is filled with hypoallergenic micro gel polyester fibers for a soft and luxurious down-like sensation. Quilted and gusseted for additional loft and support, this pillow is suitable for all sleeping positions.
These pillows have been awesome for both of us! We each have been using one of these pillows for our main pillow, and then our extra pillows have cycled to become hugging pillows, etc.
Believe it or not, we've been sleeping on these pillows nightly for almost 3 months now; and they're still as comfortable as they were the day we got them. (and the above photo was taken just a few days ago, so they're still in awesome shape!)
Sheets:
I am a super-snob when it comes to sheets.  Since I was old enough to purchase my own sheets (Around age 16) I did.  With the exception of my two years living in a college dorm room, I have had awesome, high thread count sheets – and won't settle for anything less than that.
So, I was a little concerned about getting sheets from somewhere besides Macy's.  But I figured that 1000 Thread Count sheets from Sleepy's would be a good thing to try.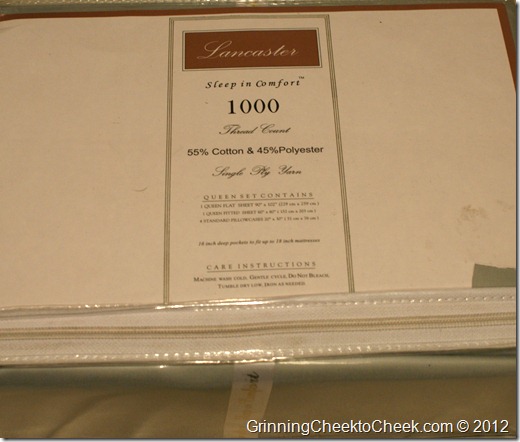 The first thing I noticed about these sheets was the thickness. These sheets are amazingly heavy-duty compared to the sheets that I have been buying (which ultimately end up shredding after a year or two). I don't forsee these sheets shredding any time in the near future.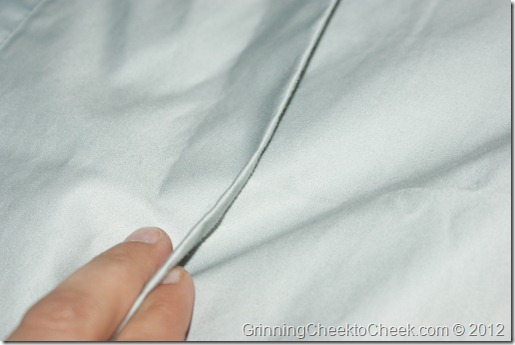 They are also very soft.  Obviously not as soft right when I opened the box compared to my cream colored sheets – but that's because they hadn't been washed yet.   After washing them I cuddled my face against them, and…  They. Are. Amazing.  Definitely up to my standards.
Then when I went to put the sheets onto my bed, I realized how amazingly deep the pockets are.  We have this super thick – double sided mattress, and almost every night we were adjusting and re-placing the sheet again because the pockets were always coming off!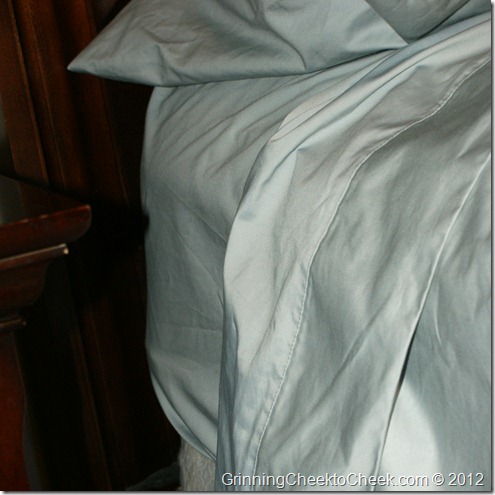 The next best part of this sheet set? 4 pillow cases!  I didn't have to buy an extra set of cases in order to get our pillows to match!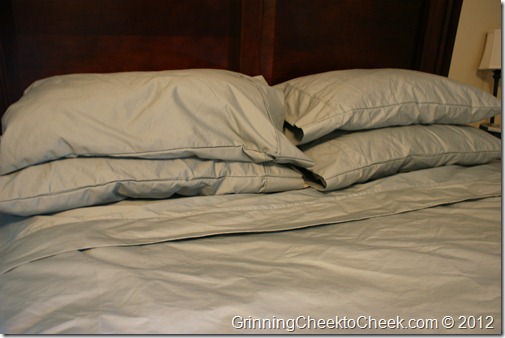 I totally love these sheets, and definitely will be purchasing another set so we have a set to alternate with on washing days.
Comforter Set:
And last, but most certainly not least – they sent over a comforter set for my room. As I mentioned in my previous post, I first had ordered this set from Sleepys:
Which I thought would be perfect – but it just clashed with my espresso colored furniture.  I needed something lighter – but still had grey in my heart for my room.
So I emailed Sleepys with a photo of my room, and they sent back a suggestion of the London 7-Piece Comforter Set – and gave me some tips for what I can do to help the grey work without having to buy new furniture! 
I exchanged the Comforter Set for the current one – and I am totally in love.  The comforter is much lighter than we're used to (we've always used a down blanket and a high thread count duvet cover) but I'm still very happy with it.  It took some adjusting, but I love it now.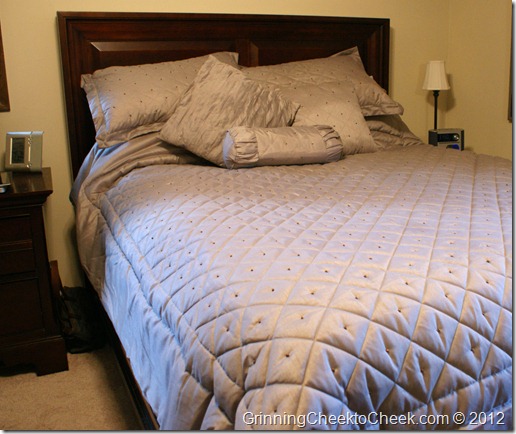 I love the pillows that came with this set also. I also purchased a few deep purple pillows to go on the bed along with the grey ones.  I'm not sure totally how I feel about them yet, but you'll see them in the final 'reveal' later.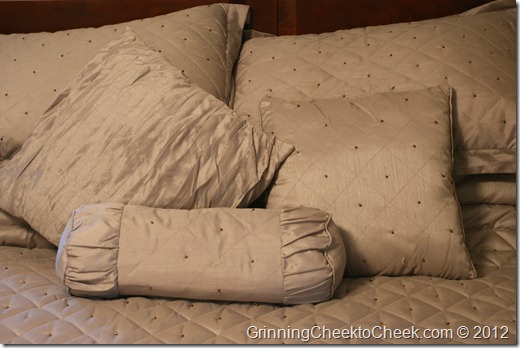 The hard thing about the set though is the beads that are sewn on.  I've noticed a few that are missing, but it's only noticeable when you're searching for it.  It hasn't changed the stitching or anything – and I'm guessing it was more to do with my munchkins that like to jump on the bed than an actual quality issue.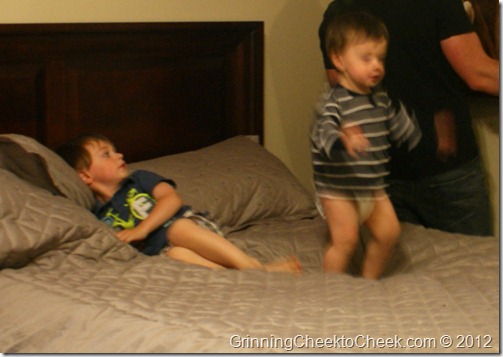 And – with some added accessories and a few other great changes in the room that I'll be talking about over the next few days – my room has turned out fantastically.  I *LOVE* my new room.
Keep your eyes peeled through the rest of the week as I show the rest of the room

To purchase items similar to mine or to check out the other great items that sleepys carries – check them out online!
Win It!!
One lucky reader from GrinningCheektoCheek or OurKidsMom will win a Serenity Gel Pillow 2 Pack from Sleepys! (ERV: $69.99)
How to Enter:
Mandatory Entry: Visit Sleppy's Website and tell me something you like, learned, or want in the comment section (below) on the blog.
Then: Fill out the Rafflecopter form! 
Be sure to come back daily for extra entries!
Be sure to check out Heather's Makeover Reviews & Giveaways at OurKidsMom.com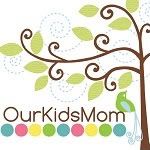 Rules: You do not have to be a blogger to enter/win. An email address is required to enter. The winner will be chosen randomly through Rafflecopter and contacted via email. A reply to the winning email is required within 48 hours before a new winner is chosen. One person entering per household please. US ONLY please. This giveaway ends at 11:59 PM EST on June 22nd, 2012.