Mother's Day is quickly approaching (in case if you haven't noticed lately..) and it's really got me thinking about my mom.
I love love love my mom – and admire her for all the great things that she has taught me while I was growing up.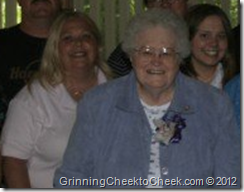 She's the reason I went to college – The reason I made sure that I had a career that I would be able to support myself on should I ever be in the situation that she was in – two kids, and very little to no fatherly/spousal support.
BUT.  We also butt heads.
I was, well… a brat growing up. a really big brat.
Ok, ok… I was an angel – really – but I had bad influences as friends (who I also love) but they literally taught me things to say in retaliation to my mom when she asked me to do stuff (aka chores). So, naturally we grew apart.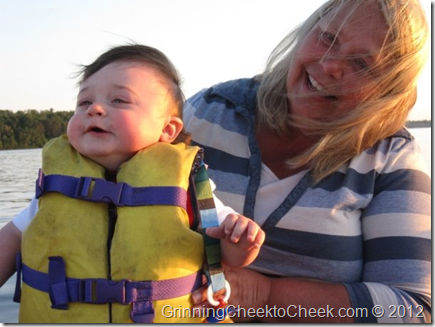 Her and I really get along great when we're together for short periods of time – but we could not live together again.  And we both respect that about each other.
We're Polar opposites.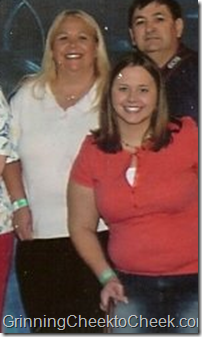 When my mom and I shop together – she picks out what I consider to be the most hideous things to wear… like, brightly colored red/purple/turquoise wind jackets.  And I pick out the most hideous things to her, like ruffled shirts.
But I love her. 
She will do anything, for anyone.  She would literally give the shirt off her back to someone who needed it, and I love that about her.  She is the most generous, caring, and giving person I know.  I am constantly telling her that I don't NEED the stuff that she is offering me, but she loves to give.
She has a super serving heart – and I think that is the most beautiful part about her.
What about Your Mom?
Does your mom show Beauty by Example?
In honor of Mother's Day, Olay has started a section on their Facebook Page dedicated to show tribute to your mom and how she shows Beauty by Example.
For every person who signs the declaration, P&G will donate one ounce of Olay product (up to one million ounces) to Look Good, Feel Better – a non-profit organization dedicated to improving the self-esteem and quality of life to women undergoing cancer treatment.
To help inspire you? I've got a giveaway!
Win It!!!!
One lucky reader will win this prize package from Olay (products may vary slightly, but this is a good general idea!)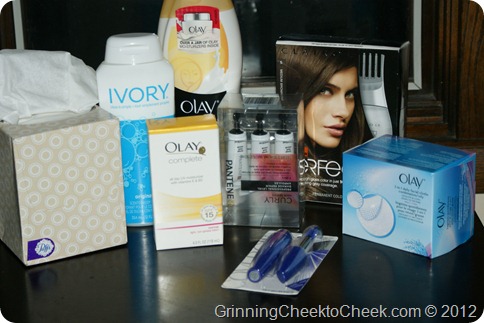 How To Enter:
Mandatory Entry: Leave a relevant comment:
Some Ideas: Tell me about what you love about your mom; what you're doing for your mom for Mother's Day; A random (relevant) comment about my post.
Then: Fill out the Rafflecopter form below.
Be sure to come back each day for extra entries!
Rules: You do not have to be a blogger to enter/win. An email address is required to enter. The winner will be chosen randomly through Rafflecopter and contacted via email. A reply to the winning email is required within 48 hours before a new winner is chosen. One person entering per household please. US ONLY please.
This giveaway ends at 11:59 PM EST on May 11th, 2012.
I received samples and other forms of compensation as part of this Olay promotion through The Motherhood.