One of the cutest things in the world to me is a kid in their (cute) hat!! <Not the ones in the ugly dollar store hats..> but the REALLY cute hats that add to the childs personality.
I think it stems back to the 8th grade. I found *THE CUTEST* Hat in the world.. at the Limited. It was $50.  Keep in mind, this was 1995 and I was rather low-income with a single mother. $50 was not going to happen.  I *BEGGED* for this hat. But… my mom (Though I love her dearly) was not about to spend $50 on ONE item that she was sure I would hate in a few months anyway.  Well.. every year at Thanksgiving our family trades names and everyone buys a gift for someone else (so we're not buying everyone a gift.) And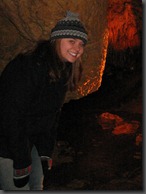 we put some ideas or suggestions on a list of what we would like to have for Christmas.  I ONLY put the hat. I said in the description exactly where it was in the store and the price along with it. It was a long shot with a gift budget of $20 per gift.. But I thought, why not. That was the only thing I wanted. So I FREAKED when I opened up my gift and found *My* hat inside! I was so ecstatically happy.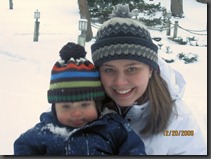 Guess what? I *STILL* use that hat EVERY YEAR. I have searched HIGH and LOW for a hat that suits my apparently funky head – but have never come even close to the cuteness that my old hat provides.
Back to the topic at hand, or head.. I searched all this last winter for a cute hat for Andrew, and never was very successful. I ended up buying a cheap hat just to get us by – but I was looking constantly.
Then of course I found this website http://www.beaniedesigns.com right at the end of the season – that has the CUTEST ever baby boy hats! The best part of it all is that they are completely hand made!  This woman's husband was a great at crocheting, and taught his wife how to enjoy doing it as well – and so between the two of them and now many other great artists, they created an awesome company who hand makes these hats that are perfect for any child!! And guess what?? They're LESS THAN $50! The one I got for Andrew is $28, but on sale for $24! That's my favorite part.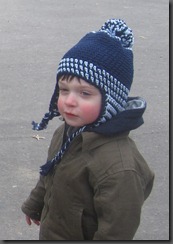 I just love the hat that I received for Andrew – I was so happy that I finally found a great hat for him! I bought it in the size 2-4 years so that it will fit him for a few years. The hat is sturdy and extremely well made. The yarn is so soft and not itchy at all (for my picky boy). He didn't mind the hat one bit 🙂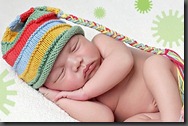 I'm 100% positive that this is where I will be ordering Ethan's hat for next winter. I'm just waiting to see how big his head grows between now and winter (because right now his head is a little on the flatter side, and it will fill in more, which will change the way anything fits.

These hats are perfect for your first newborn pictures of your child – I've seen so many people now who have their newborn pictures taken with their baby only wearing a cute snuggly hat. It's so adorable!
These also would make a great gift for any occasion, because – even though it's spring – who can resist a cute hat?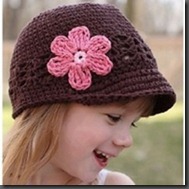 *Although I received a free product, my opinions are 100% my own and reflect my experience with this company and product.