Speaking of Birthday Celebrations – a friend of mine mentioned that Barney was coming to Minneapolis on October 1st for a big Birthday Bash – and I wanted to get in on the action!

It's Barney's Birthday – and what better way for a big purple dinosaur to celebrate it than to have a Live in Concert Birthday Bash for all to enjoy?
Barney Live in Concert – Birthday Bash!
World Premiere Tour
Minneapolis, MN; Target Center
Saturday, October 1, 2011
Everyone will be there including your favorite purple dinosaur and his friends Baby Bop, BJ, and Riff.  It's a fun show about sharing, caring, and friendship – brought to you by the power of your imagination!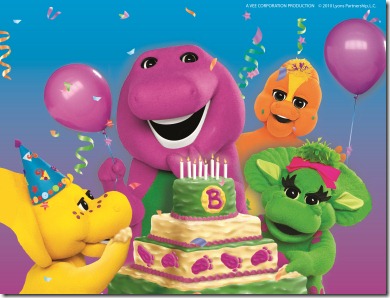 The Birthday Bash will feature more than 25 fun and upbeat tunes, including favorites such as "Mr. Knickerbocker," "Dino Dance," "Baby Bop Hop," and "Rock 'n Roll Star."
If you're in the Minneapolis Area and you'd like to see the show – Here is the information:
There are two performances happening on October 1st – at 1:30 and 4:30.  Tickets are available at the Box Office as well as all Ticketmaster locations.
Ticket prices are $10, $18, $28, $38 (Gold Circle) and $75 (Dino Seats).  The Dino Seats Package includes a VIP seat and a pre-show Meet & Greet photo opportunity with Barney!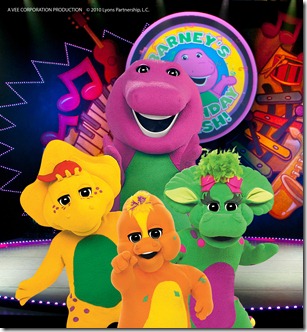 Want tickets? I'm giving away a family four pack of the $18 tickets – You may choose whichever show you would like to attend!
Enter to Win:
This is kind of a fast giveaway, seeing as the concert is coming up so quickly – so I'm going to make it easy

  I will need winners mailing information no later than Noon on Wednesday September 28th – so if you enter, please keep close watch on your inbox around Tuesday/Wednesday!
 WIN!!!
To Enter: Please leave a comment telling me your favorite barney song(s) or why you would love to go to the Barney Birthday Bash in Concert!
Discounts:
If you don't win, and you would still love to get in on the action: You can get $3.00 off each ticket (restrictions apply) by using the code 'PURPLE' on Ticketmaster.com!