When I was younger I loved back-to-school shopping.  I was always concerned about how the clothes I would buy and the way I would dress would determine the way that my friends and teachers would view me.  I wanted to be cute, yet friendly, and sophisticated.  I wanted to look welcoming towards new friends!  My mom just hoped and prayed that the clothes she bought me would last all year.
What is a mom to do these days? So much more emphasis is placed these days on what you're wearing and how it looks vs. the overall durability and cost effectiveness.  You can walk into a store and spend $80 on one sweater, only to have it be worn twice and get ruined on the playground.  Or you could go completely the other direction and spend $80 on an entire wardrobe from bargain-bin stores that might make your child unsure of their wardrobe and less confident of their style.

Gap offers a great balance between those two options.  They offer style, sophistication, durability, and affordability!  It's not so often that you find an amazing store that can deliver on all of those needs.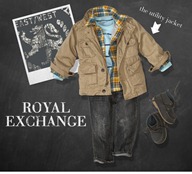 Your children will be happy that they can be 'seen' at the mall shopping in one of the *cool* stores and you are happy because you're getting the high-quality, durable, but aesthetically pleasing outfits at a great price!
GapKids and babyGap have an awesome new line of clothing that makes your shopping choices that much easier!  The Portobello Road Collection is an amazingly cute, yet sophisticated look that will surely catch yours and your children's attention!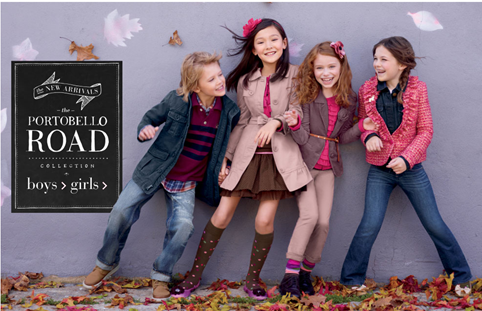 Your kids will feel ready for that first day of school.  Knowing that they have picked some great outfits, and will ultimately make them more confident in who they are and set them on the straight path for having an awesome year.
Denim Back-to-School Promotion:
GapKids and babyGap is also having a Denim Back-to-School promotion, where you can get some amazing jeans at an amazing price (only $15!!!) from August 5th through August 17th!  So hurry over to the closest Gap store to take care of all of your back-to-school clothing needs!
Giveaway!!
One Lucky winner will receive a $25 Gift Card for Gap! 
Click for Instructions for entry
This first entry is MANDATORY: Tell me your favorite part of Back-to-School time!!
Optional Extra Entries: (only after mandatory entry is done!)
Subscribe to my blog via email
Like GrinningCheektoCheek on Facebook
Follow my blog publicly via GFC
Follow my blog via Networked Blogs
Post my Button on your blog. (two entries)
Blog about this giveaway, including a link directly to the giveaway (Five Entries)
Follow Gap on @Gap on Twitter
Follow GrinCheek2Cheek on Twitter on twitter and tweet about this giveaway:  (this may be done twice daily, at least 2 hours apart)
Its Back-to-School Time! @Gap is the Place to Shop! #Win a $25 Gap Card @GrinCheek2Cheek #Giveaway #GapSchool Ends 8/19 http://goo.gl/9q2zP
Like Gap on Facebook
Share this giveaway with your friends on Facebook: I love Back-to-School Time! (@Gap) is the place to shop – and I just entered to win a $25 gift card from (@GrinningCheektoCheek) http://www.grinningcheektocheek.com/Back-to-School-with-Gap
****( You will have to re-type the @Gap and @GrinningCheektoCheek to get it to highlight so that it mentions us – otherwise it will not count.)
Post my link on any of

that day's

CURRENT

Public Giveaway linky for this giveaway.  Should say something like – GC2C– $25 Gap Card Giveaway – Ends 8/19 *and the link*. Comment to me the link to where you submitted it. (i.e. for a Tuesday Giveaway Linky – post it anytime before midnight that same Tuesday) One entry per linky posted on.
Open to U.S. only.  Giveaway ends August 19th, 2011 at 11:59pm. Winner  will be drawn by 'andthewinneris…' the following day, and will be e-mailed. Winner will have 48 hours to respond or a new winner will be drawn