My Baby is One!
And here are some pictures as promised!
Micah had lots of fun pulling paper and fluffing out of presents, almost more than playing with what was inside! He got some super fun books (including a really accurate lego Christmas story book!), a little tool bench, a nativity scene, and other fun presents.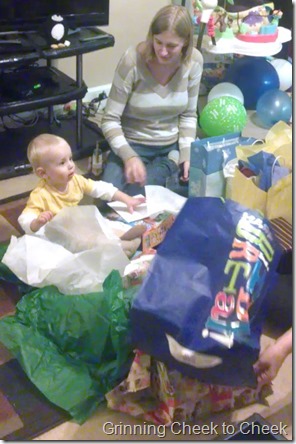 He also LOVED playing with his balloons. Birthday balloons are a great, cheap source of fun!
Cake For Baby!
We even gave Micah his own personal cake. He was in awe of the candle, then wasn't sure what to do with the cake. He played with the frosting (and got it all over himself) but didn't seem too interested in the eating the cake. Peter even tried to show him what to do, silly boys.