Nursery Redo!
Babyland's next big move: we are redoing the church nursery! The board agreed it needs a fresh look (desperately, it's been 10 years by the sound of it) and liked my plans, so now I get to repaint and redecorate! I've also had a few companies come on board, such as Delta Children's products and Flor, to help in the process. I'm waiting to hear back from others as well, let me (Andrea) know if you want in! I've been searching Goodwill and Salvation Army for some "new" toys and am shooting for a fun, freshly painted Noah's ark nursery. Watch for updates as it comes along!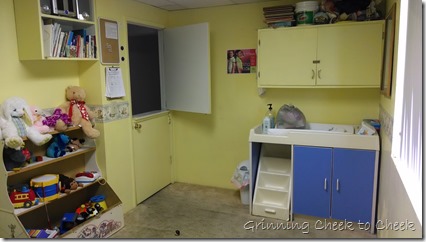 Grandma and Grandpa Visited
My parents and grandma got to visit for a while, we had fun hiking, visiting Oatman, mini golfing, and playing cards. Micah loved having more people to dote on him and loves his grandparents so much. He was thrilled by the donkeys in Oatman but definitely not a fan of the shootout. We hate being so far away, but are super thankful they get to come visit now and again. We are looking forward to Peter's family visiting for his ordination in the end of March, and then whatever visits come with the new baby in August!
Arizona is beautiful
The weather is getting warm and Micah adores being outside, so we spend a lot of time in the backyard. Between his swing, slide, and water table, he is spoiled rotten and loving it. Plus the world is a big sandbox, so there are endless rocks to throw, sand to sift, and ant hills to destroy.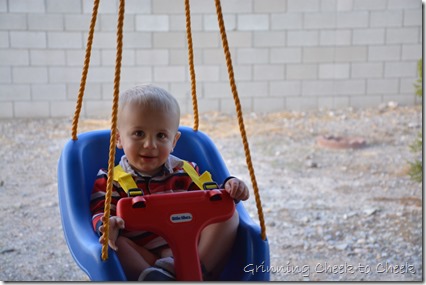 Teething and Screaming!
Micah suddenly went from 8 teeth to 12 with a few more starting to buldge! This made for some pretty rough nights. it has become pretty common for him to get a dose of Ibuprofen before bed; this seems to make bedtime go a lot better. Plus he still uses his pacifier at night, assuming they haven't all been thrown on the floor. The other thing he has been doing a lot of: screaming. High-pitched little tantrums. So, we are trying to him to do sign language please instead and trying not to give in to the ear-busting squeals of anger. Any other tips for 1 year old tantrums?
Dumb Ways to Die
Micah has a new favorite activity: watching Dumb Ways to Die on our phones. The video is in a game and it's a rather cute bunch of cartoon characters dying in dumb ways, ending with the dumbest ways to die being on train tracks. It's put out by Metro and is actually really catchy. Micah will watch it 4 or 5 times in a row and still get mad when we take away our phones!