My 7 Month Old is Mobile!
Micah has figured out his own little crawl! It's slow going, but rather effective. This came last week after a few days of kicking his legs wildly with no success getting anywhere, then pushing himself on his tummy, now crawling! He also goes up on his feet like he will bear crawl but doesn't. Sometimes he gets his feet under him so he is squatting and looks like he wants to stand, but he hasn't figured out how to pull himself up. Peter calls him "Ribbit" because of this position, he gained this nickname early since he used to sit on Peter's stomach that way when he was just a few months old.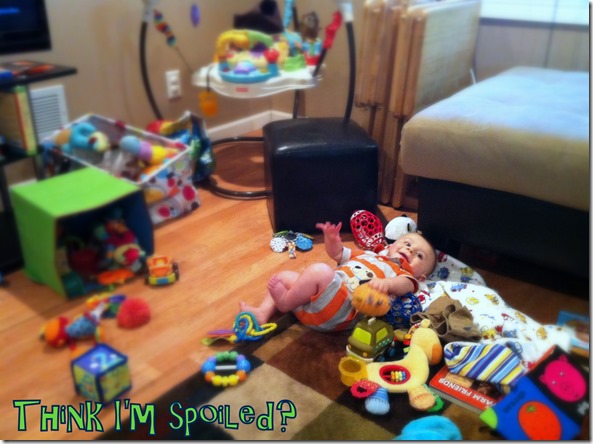 We moved his crib down to the lowest position for safety. Plus, last week he surprised me! I went into his room when he was crying at 4am and found him sitting up! The next day he showed off this new skill more, he can easily go from his stomach to sitting!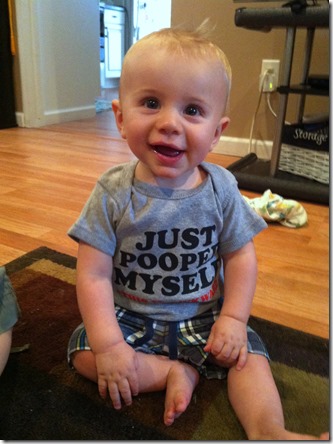 Now the baby proofing battle is on! And apparently I need to keep my floors cleaner because he finds, and proceeds to eat, every little thing left on the floor or rugs. Which is a great job for my new Swiffer WetJet and Swiffer Sweeper. Watch for more posts about baby proofing as we continue into this adventure!
My Baby is Growing up so Quickly!
Micah is getting to be a pro at picking up his Gerber Graduates Puffs and loves eating. Almost as much as he loves getting into his toy bin…. he crawls and army scoots his way over to his bin, quite often tips it over, and proceeds to pull out every toy. It entertains him for quite a while, and the whole time he sits squealing and making happy sounds, music to my ears.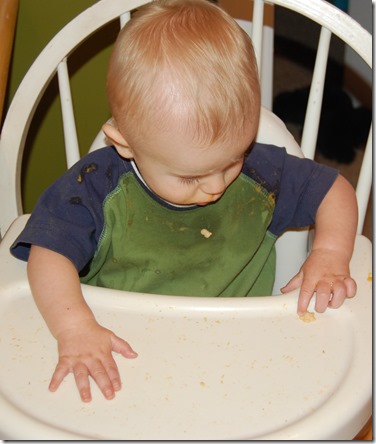 Beach Bum Baby
We went back to Foster Arends beach in Rochester, Micah loves to sit in the sand and "swim" in the water. We tried his little turtle flotation ring with sunshade from Walmart, which holds him well until he tries to crawl out of it. He definitely prefers to be held and play in the water rather than sit in his floaty. He loves being lifted up and "dropped" back into the water, and hits the surface with his hand to make it splash.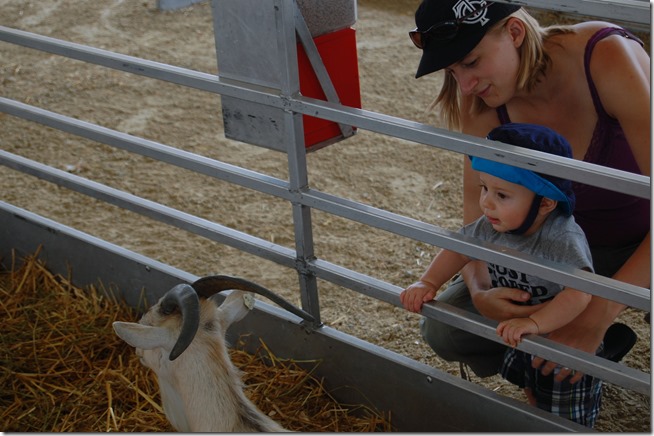 The Olmsted County Free Fair
Then we went to the Olmsted County Fair! Micah LOVED watching the people, going through the petting zoo, and sampling our (totally not healthy) food. Plus the fair is totally free (last year we went 3 times!). So, we've been twice this year. We visited the petting zoo and saw brand new baby goats the second day. We also got to hang out with Micah's 1 year old cousin the second day. It was so fun! And, of course, we ate the deep-friend junk food that goes along with any fair.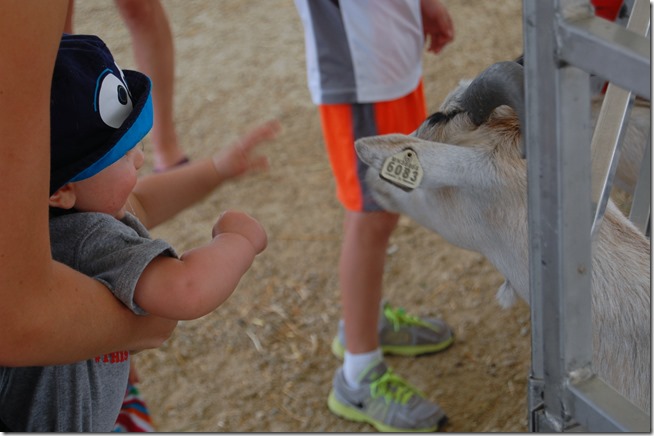 Swinging Time!
I love swinging and when I was pregnant I was looking forward to bringing my baby to the park, so we go to the park occasionally but Micah can't run around yet, and even the baby swings always seemed huge, so we didn't do much. But this past week we plopped him into a baby swing and gave it a try. And he loved it! I sat him back in it so he would be supported, he tucked his little feet up to support himself, and every time he swung forwards towards our faces, he would giggle with delight!