My Baby is Growing Up!
My little man is one year old TODAY! He's growing so fast! And he's getting more mischievous every day. His newest thing: apparently "no" is hilarious. I told him "no" when he was playing with the water dispenser, he giggled, figured out how to get a little water out, and then cried because it was cold. Someday he'll learn. He also enjoys holding his sippy cup over the side of the table and smiling, then he puts it back on the table and giggles. At least he's learned that he shouldn't drop it any more!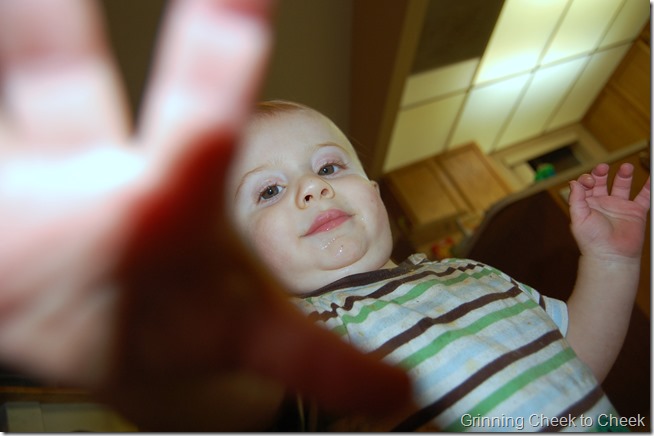 My Baby is Getting so Smart!
Micah is also super smart! At least I think so. He has a little penguin that lights stars on the ceiling, and within 2 minutes he figured out how to hit the button to change the color! He loves taking lids off and putting them back on, putting things in cups, and flipping pages on books. He also has a super-cat-like-knowledge of when the fridge or front doors are open…and where the grapes are inside. And he loves being outside! And his current favorite toy: a regular balloon. It's great fun apparently! He giggles, throws it, face-plants on it and just loves the thing. Until it pops, then he just looks stunned and looks around like "where'd it go?!?"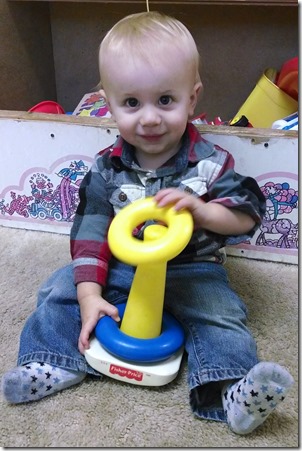 1 Year Old and Learning to Walk!
He's still taking steps and getting stronger. About a week ago he started getting a lot farther! Now he walks as much as 20 feet and definitely seems to prefer it over crawling, though he crawls when he wants to get somewhere fast. And he will walk to us and give us hugs.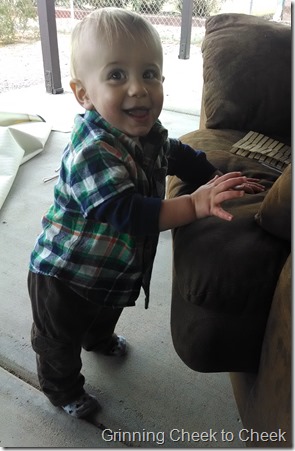 My little boy BITES!
When Micah gets angry, he bites. Hard. He doesn't dive bomb for my shoulder like he used to, but if something (like a finger) gets near his face while he's screaming…. OUCH! (He screams a LOT, like every time he doesn't get his way, little or big) He doesn't bite while breastfeeding anymore, which is a huge blessing, and now we just nurse every morning. He seems to like food better and working 12 hour days in a busy ER doesn't really leave any time for pumping.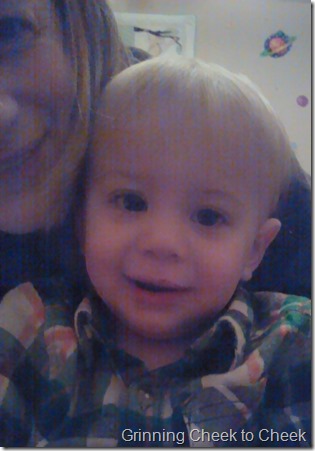 We are Going to Fly with a 1 Year Old!
Our Christmas present to each other – a trip to MN! I am going to work 6 days in a row (then 8 off) and Peter got approved to take time off, so we will be flying Micah-in-lap to MN for a COLD week-long trip to see family. I'm excited to see what Micah thinks of snow! And we are REALLY looking forward to spending time with family.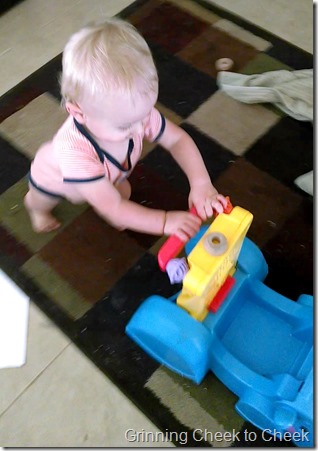 Enjoy spending time singing Christmas carols, shopping unselfishly for others, and remembering that Jesus came to save us all! And stay tuned for fun birthday celebration pictures in a soon!