What activities are there for a 6 month old? How can I keep my baby entertained?
In the words of Micah: Da da da da baba dada daaaaaaaaaaaaaaaaaaa!
Seriously, this little man in BUSY! Bring on the summer activities.
He's figured out rolling over and wiggling in circles on his tummy. He often has free run of a chunk of space in our living room and he has successfully figured out how to cover the whole thing. If he sees a toy he wants, even 4 feet away, his little 1-foot long arms can get it. I turn my back to start the dishes and when I look back he's lying 3 feet away from his start point! So we surround him with toys and try to keep him entertained until he's ready for another nap.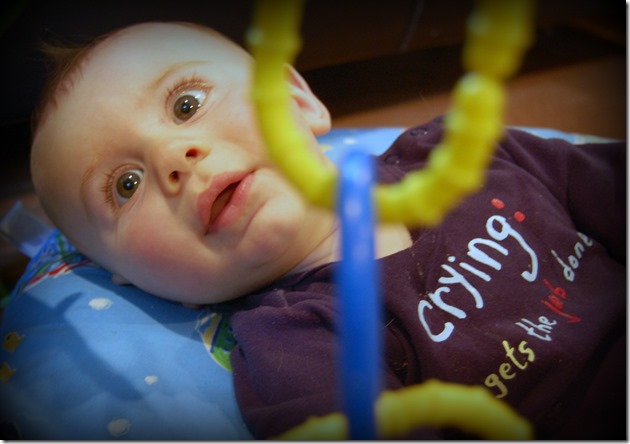 Summer Activity #1:
Sitting up is a good challenge, and he's getting so good at it! I've set out blankets on the floor so he can sit and play with his toys (because lying down all day just isn't good enough anymore) and if he tips over the blankets offer padding (BIG head, little arms…..).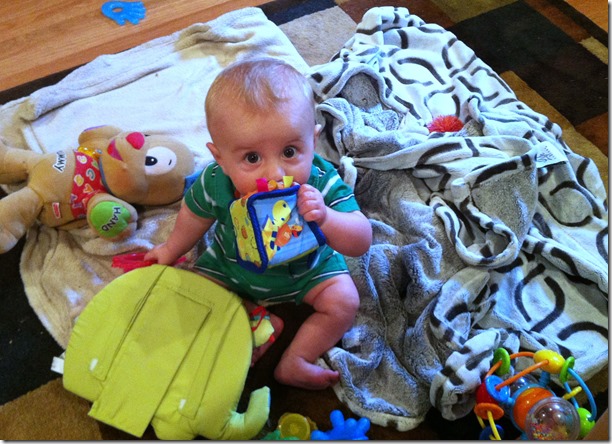 Summer Activity #2:
With summer here, we've been swimming (once so far) with the lovely cousin Molly, they had so much fun! And her baby-sized pool was perfect for sitting in empty too! When Micah tipped over, the air-cushioned pool floor made a soft landing pad for that precious head. It made out weekend-long garage sale at their house much more fun!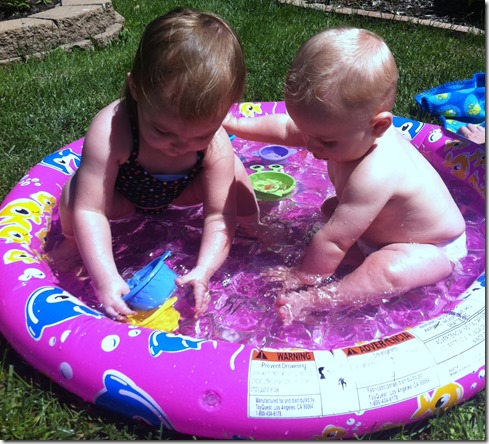 Summer Activity #3
Spending lots of time outside (after smothering on the sunscreen), Micah loves playing in the grass and watching the constant activity of the outside world. We've been to feed the ducks, watch the cars, and observe other people.
Summer Activity #4
Naked time! Summer means it's hot, and we just have a window cooling unit, so Micah gets to spend lots of time in just his diaper rolling around on the floor feeling everything. He seems to love being naked!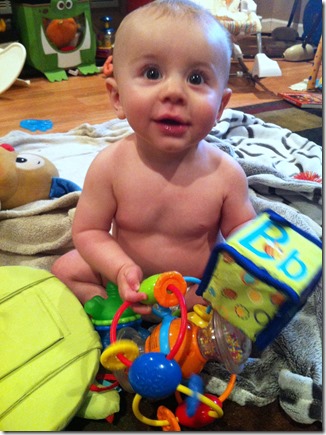 Keep coming back for more activities in the episodes of the Adventures of Busy Baby!