When I was in the early thinking process of making the switch to cloth diapers – I had a few online friends who I knew had written several posts about their cloth diapering experiences, and I went to them to ask which diapers are REALLY their favorites, and which companies to start with.

One of my closest online buddies, Annie from MamaDweeb.com had recommended Apple Cheeks.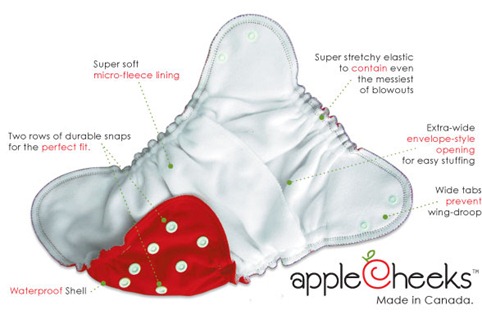 These diapers I believe were the second set of Fluff I had received in

the mail. I had to read up a little bit about them, and figure out how to fold the insert just right. I watched a video tutorial that apple cheeks has on their site which showed how to correctly stuff and place the diaper. That was very helpful to me.
Apple Cheeks was also the very first diaper I tried on my older son, Andrew. He fussed and hated that I was putting cloth on his butt. FYI: I now realize that this diaper was put on way too loose, and now we tighten them much more

It was also the time where I realized that he would need to go up a size in pants with cloth diapers…. ugh.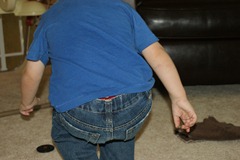 My Ratings:
See this post to find out more about my rating scale.
Apple cheeks has a fairly easy system. I just need to find the two pieces – the outer diaper and the insert. Fold the insert into thirds and stuff it in. Granted – I did have to watch their tutorial first on how to get the insert in correctly.


Apple Cheeks seem to fit really well on both boys. Andrew is nearing the 'too large' stage for this (and many) diapers – but it still fits him well. I think it tends to be a little bit bulkier than I'd personally like a diaper – but that comes from being used to a nice, trim, disposable. It's still much less bulky than some others.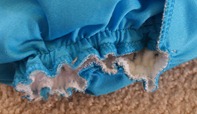 I like that the leg elastics are more flat vs. rolled. It doesn't necessarily look better – but it functions better. I don't have to pull at the legs to be sure that the elastic is rolled correctly like I have to with a few other diapers.
However, they tend to leave red marks on my boys' legs and waist when they are tightened correctly. This may or may not bother them.


Washing is super easy with this diaper. Simply throw it in. No need to pull the insert out. Dries fast because of the thin material.


Love the bright colors on the diaper – but with the edges being out – it doesn't look quite as put together as some of the other diapers.


Average prices: about $20 for the cover, and $9 for the inserts. This is a little disappointing to me that the insert is not included with the diapers.
Also – they come in two sizes – 1 and 2. So for diapering your little one, you'd have to buy enough of each size diaper to get through a few days of diapering.


Anything that has snaps is automatically going to be downgraded in Daddy's book – His big hands pinch the boys when he's snapping. Daddy doesn't like to leave red marks on legs – and therefore tends to leave this diaper too loose.


I tend to reach for this diaper for Andrew more than with Ethan. Being that I have so many diapers that fit Ethan so well, I reserve this one for one that fits Andrew well.
I wish that I would have gotten some hemp doublers from Apple Cheeks –because I tend to think that there just isn't enough absorbency going on. Andrew is a heavy wetter – so two pee's in this diaper and we run a high risk of leaks. Hemp would help that. Otherwise I'd have to be changing him every hour or so, bringing my total # of diapers needed up – which then brings up the cost.
I find their website rather confusing. I know that they have a ton of great information on their website… but I just have a hard time navigating it. I have sent an email with suggestions to the company owner to let her know the issues I've had.
Well – How's that for our first Cloth Diaper review??? How about a…
Giveaway!!!!
(Open to US/Canada)
One Lucky winner will receive a Little Bundle – inlcuding choice of size and solid color of diaper and an insert ($29 Value!)
Click for Instructions for entry
This first entry is MANDATORY: Visit www.applecheeks.com and tell me what color and size you will choose if you win!
Optional Extra Entries: (only after mandatory entry is done!) All are worth one entry unless otherwise specified
Subscribe

to my blog via email (Be sure to confirm) – 2 entries

Like

GrinningCheektoCheek

on Facebook

Follow my blog publicly via GFC (Lower Right Box)

Follow my blog via Networked Blogs (Lower Right Box)

If you grabbed my Adventure To Cloth Diapering Button before 8/22 and left a comment

here

telling me that you did so, add 2 entries

Follow

AppleCheeksDipe

on Twitter

Like

AppleCheeksDiapers

on Facebook

Follow

Apple Cheeks Blog

Follow

GrinCheek2Cheek

on Twitter on twitter and tweet about this giveaway: Can be done Once per day

Which color will you Choose if you #win the AppleCheeks #Giveaway @GrinCheek2Cheek #ClothDiapers #A2CDEvent http://www.grinningcheektocheek.com/apple-cheeks
Open to US and Canada. Giveaway ends September 9th, 2011 at 11:59pm. Winner will be drawn by 'andthewinneris…' and will be e-mailed. Winner will have 48 hours to respond or a new winner will be drawn