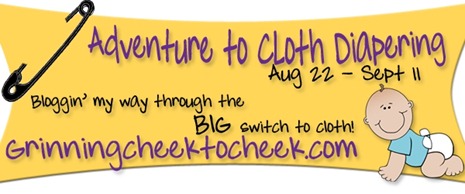 So excited for everyone to Join me on this journey to cloth diapers. I'm going to start with a little bit of background information for those who are just joining in on the fun. (Yes, technically the fun starts today – But I've been posting about my worries and fears and issues along the way..)
I've started a "Cloth!" section in the menu bar – where you can see all of my cloth diaper related posts. But here are the one's I've done so far:
You can read this post here to find out about my thought process of switching (all my worries and fears).
You can read this post here to find out about the official switch and event announcement.
You can read this post here to find out about our major withdrawls from disposables – and my husbands funny texts to me at BlogHer.
You can read this post here talking about the updated status of being over the hurdle of missing Disposables and about our background of diapering habits.

Sponsors
So. We've got some GREAT companies working with us, You'll notice their ads all over the place: Be sure to give them some love and check them out! They've all been so amazing to work with and really helpful to me in the process of starting out!
The amazing sponsors of this event include (in no particular order) Apple Cheeks, GroVia, Thirsties, Oh-Katy, SoftBums, Sprout Change, Go Green, Grasshopper, SmartiPants, Charlie Banana, FuzziBunz, Wee Little Changes, Sweet Bottoms Baby, Sweet Cheeks Diaper Company, Sew Crafty Baby, Comfy Cozy Diapers, and EarthyCrunchyMama.com!
If you work with or for a diapering company, and would like to be added to this awesome list – Please contact me asap. I have a few more spots available and would be happy to add you in so long as I can get the appropriate diapers in the appropriate timing!
Several of these companies are doing giveaways of their diapers or gift card values to their stores as well – so this should be a really fun event!
P.S.
Don't forget to comment on some of my non-giveaway posts as well! I might just have some surprises up sleeves for those who are truly participating 😀