As promised, I'm Continuing on with the previous list I made of Gifts For Her at Best Buy. This time we're talking Gifts for Kids at Best Buy!
This was a little more complicated, because I am focusing here more on younger kids (because that's what I have!) and what they would like.  I found a variety of things that I'm sure my kids would be thrilled to get, that you might not have otherwise thought to be purchased at Best Buy!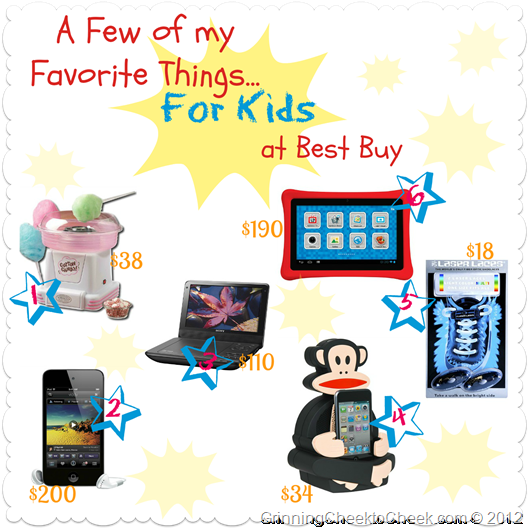 All pricing on the image is accurate at the time that I'm making the image, and cannot be used as a 'price match' of any sorts!
1. Nostalgia Electrics – Hard Candy Cotton Candy Maker
How much fun is this! It spins Cotton Candy from Hard Candies!
2. Apple – iPod touch 16GB MP3 Player (4th Generation)
I know that kids (especially younger ones) don't *need* an iPod Touch, but my kids love playing with my iPod Touch!
3. Sony – 9″ Widescreen Portable DVD Player
The portable DVD player is essential in our house – So mom and dad can use the TV and the kids can watch their movies. I also <3 Sony.
4. SpeakerCraft – Paul Frank Julius Dance Machine Portable Speaker Dock for Apple iPod
I love that this is cute, and a great price! It even has good reviews!  They also have the Paul Frank – CD/CD-R/RW/MP3/Apple iPod Boombox with AM/FM Radio
for those who prefer CD's and Radio.
5. Laser Laces – Shoelaces
These look so cool, and are a great gift for kids with laces – and a great price.  They come in multi colors, blue, or pink.
6. nabi 2 Tablet – 8GB Memory
The nabi 2 Tablet is a great option for little ones who want to play with mom & dad's iPad.  I love that it uses it's own store that is verifying all apps that they do not have clickable ads or anything that little eyes shouldn't see.  It also has a 'chore list' with incentives to complete the chores! Very neat, and has great reviews online!
___________________________________________________________________
That's all for this list! I hope you enjoyed it! Keep your eyes peeled for the next list!
Are any of these things on your kids' lists?
Yes, This is a sponsored post by Best Buy – all opinions however, are 100% my own – and I picked all of the items on my list personally.  Also, this post contains my affiliate links for Best Buy – Please support this site by clicking my links before you purchase!