Over the past few years my love for the Best Buy store has grown and grown. We have ALWAYS had a great experience at Best Buy – returning just about anything, advice on issues, AND they price match!  This Holiday Season they're EVEN price-matching online stores, too! Perfect to get the best prices without dealing with multiple shipping places.
This year, I am hoping to get the majority of my shopping done at Best Buy for family members – so I figured being the awesome Best Buy Ambassador that I am, I'd share with you the things that I would love to get from Best Buy.  Over the next few days/weeks I'll be sharing different lists: For Her, For Him, For Kids, For Teenagers. Keep your eyes peeled!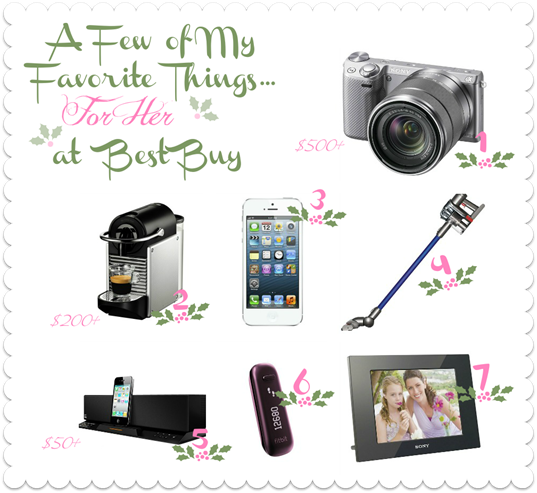 1) Sony – 161-Megapixel Digital Compact System Camera with E 18-55mm f/35-56 OSS Lens – Silver
. It's a Pocket sized camera which acts just like a DSLR – This camera came highly recommended from the experts at Geek Squad, and is #1 on my Christmas List this year!
2) Nespresso – Pixie Espresso Maker/Coffeemaker
I just purchased this for myself and my family, and I'm in Espresso Heaven. Honestly, best espresso purchase EVER! (way better than the Tassimo or Keurig or Espresso Machine that I already own.)
3) Apple – iPhone 5 with 16GB Memory Mobile Phone
I <3 my iPhone – and for those who don't already have one, Now is the time to get it! So fun for everyone!
4) Dyson – DC44 Animal Digital Slim Bagless Cordless Handheld/Stick Vacuum
I know, I know.  Not the most 'romantic' gift ever – but trust me –  If this was under my tree, I'd be SCREAMING in joy! (It's only been on my list for 3 years now…)
5) Soundfreaq – Sound Step Recharge Bluetooth Speaker I did a review for the Soundfreaq a while back, and it has become an essential part of our daily living. This would be a great gift for a Her or Him or a Teen!
6) Fitbit – One Wireless Activity and Sleep Tracker
I also did a a review for the Fitbit not that long ago.  I love wearing this thing, it gives me a whole new perspective on my daily activities. I'll be competing w/friends for 1 million steps in January! Perfect to get a head-start on the New-Years Resolutions!
7) Sony – 8″ LCD Digital Photo Frame
. This is another one of those items that has been on my list since about 2005. I have looked at several, and the only ones I have been impressed with are the Sony brand the most. Beautiful picture!
__________________________________________________________________
If you decide to brave the crowds this year – you can save 10% on all Headphones, Speakers, and Health & Fitness Products in store by clicking here to get this coupon!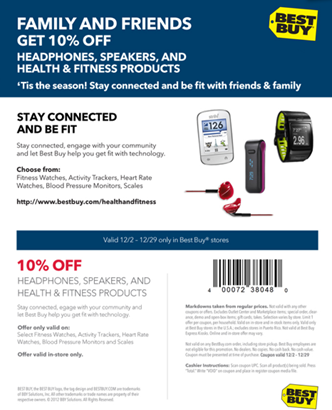 Or if crowds aren't your thing, you can get a Free $25 Savings Code for Best Buy with Store Pickup Orders of $250 or More! making your holiday shopping even that much easier! Order it online, save money, pick it all up at the store, avoiding the lines – all while enjoying the great customer service that follows your purchase!
Be sure to order by December 19th to have Delivery Guaranteed by the 24th!
What's on your Christmas list this year?
Yes, This is a sponsored post by Best Buy – all opinions however, are 100% my own – and I picked all of the items on my list personally.  Also, this post contains my affiliate links for Best Buy – Please support this site by clicking my links before you purchase!